Why we created this site ...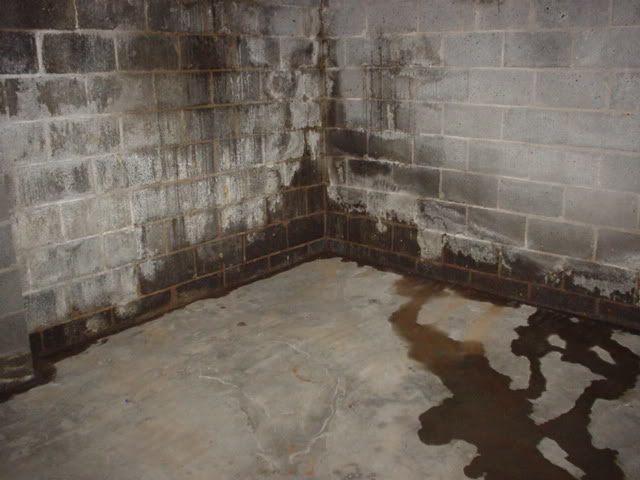 Gone forever ... rare LPs (record albums) ... rare books ... personal diaries and journals ... family financial and tax documents ... vintage wine bottles (their paper label destroyed -- no idea what's inside!) ... paintings and artwork ... an antique radio... Literally, tens and thousands of $$ worth of damage -- both to these valuable stored items plus structural damage to our house. We thought we had our bases covered: we built a fairly typical + modern (early 1990s) house, in the U.S. Midwest, by reputable contractors. We even had a top-of-the-line sump-pump.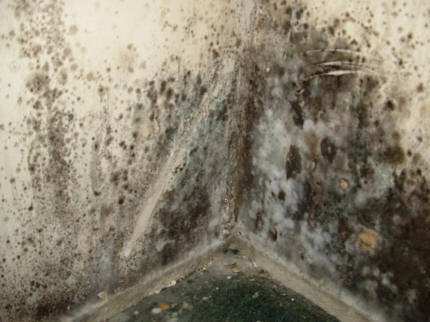 above: Basement water leaking and moisture problems can lead to even worse issues ... such as disgusting and dangerous MOLD!

Alas, Mother Nature calls the shots, so waterproofing is challenging for ANY contractor. It requires art and science as well as outside-the-box thinking!
Why Waterproof your Basement?
Wet-basement problems are found in 75 percent of U.S. houses. The most typical causes are condensation, runoff, and groundwater swelling. A home is often the largest financial investment you'll make in your lifetime. Therefore, it's critical to protect this investment by doing basic and preventive maintenance.
The problem of "wet basements" is common. However, many homeowners are not aware of the damage constantly being created and accumulated in their homes. Other than the nuisances and smell of damp or humid basements -- which some may tolerate more than others! -- many homeowners are oblivious of the damage that's perpetually being done to the structure and integrity of the house or building they occupy.
A dry basement is a comfortable location for work, hobbies, storage -- and extra living space is a superb asset to the value of a home. But a wet, humid and smelly basement significantly reduces the investment (property) value of the house, and is a perpetual cause of worry, annoyance, and frustration.
---
Our goals are to provide you with cutting-edge info on:
Basement wall waterproofing
Crawl space waterproofing and moisture control
Sump pump installation and service
Basement finishing system
Foundation repair solutions
State-of-the-art drain control systems
DIY vs. contractor waterproofing
---
Got a WET floor and sub-floor?
After much research we've found some awesome solutions ... either for a Quick-Fix Emergency, or Permanent (long-term) Solutions:
Here are some fast + effective + inexpensive ways to moisuteproof / waterproof your Floor and Sub-floor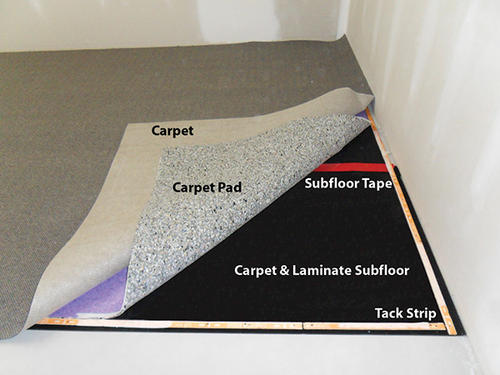 ---
Newest Articles, How-To's and DIY Guides:
---
Older Articles:
A General Guide to Remodeling Your Basement: Create Usable Living Spaces Using Professional Methods...
1. Should You Finish Your Basement?
2. Planning and Job Sequence
How to Plan and Remodel Basements
Basement Weatherproofing
Shielding against Cold and Heat:
Building Foundations for Log Cabin Homes:
Types • Sizing • Concrete Foundations • Concrete Block Foundations • Damp-proofing and Waterproofing • Stone Foundations • Concrete Pier Foundations • Concrete Block Pier Foundations • Post Foundations • Slab-on-Grade Foundations • Grade-Beam Foundations • Permanent Wood Foundations • Layout
---
Floors and Sub-floors
What about the subfloor? Products that target the sub-floor to control moisture include: Subflor, Dri-core (aka DRIcore, Dricore), SUPERSEAL SuperDrain Membrane, etc.
We prefer Dri-core (aka DRIcore, Dricore) because it is relatively cheap and can be found at any Home Depot (or conveniently ordered from Homedepot.com here) easily installed.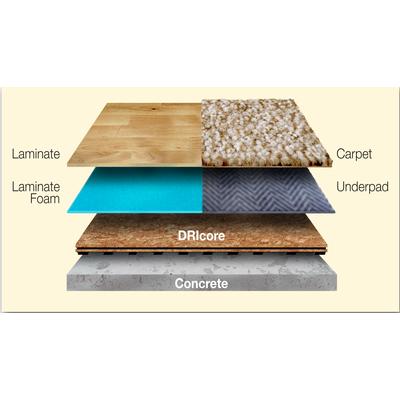 above and below: pictures of the very effective DRIcore 5-inch plastic-shim panels for subflooring. Avail. at HomeDepot here.


below: DRIcore 7/8 in. x 2 ft. x 2 ft. Aspen Subfloor Panel...

We also like...
---
How to Build Additions
(a DIY guide on the Construction Resources and Support web site)
Simple Room Additions
(below content...coming soon...)
Framing the Roof
Applying Roof Sheathing
Installing Roofing
Installing Skylights
Installing Sheathing and Siding
Access to the Room Addition
Installing Wiring
Insulating the Addition
Installing Wallboard
Installing Doors
Finishing the Interior
(more...coming soon)
---
Popular articles:
Foundations: A General Renovation Guide:
Basement and Crawlspace FAQ:
Dampness and Humidity Problem Solver
---
Introduction to Basement Waterproofing
The most common type of basement leak is at the joint where the floor meets the wall. The source of the water can be rain or melting snow which collects around the foundation. As it does so, hydrostatic pressure builds up and , hence, pushes water in through leaky joints.
The basement floor itself is rarely the source of water leaks, but may contribute to some condensation which appears as a "wet spot".
Basics:
---
Comprehensive Guide to Basements:
Assessing the Scope of Your Basement Project:



General Preparation:



Basement Floor Prep:



Basement Walls:



Basement Openings:



Power and Water in Basements:



Basement Finishes: Working with Beams and Posts • Painting Masonry Walls • Drywall • Finishing Drywall • Suspended Ceilings • Finish Flooring



(coming soon) Basement Glossary
---
Got Mold? Try...
basement-spaces.com/basement-mold-treatment
---
Home and Building Water / Moisture Problems, Solutions and Prevention:
Basements
The Rest of the House
Water in Your Home
---
Guide to Wells and Septics Systems:
---
Repairs to Concrete Water-Retaining and Water-Excluding Structures
---
Green, eco-friendly construction techniques
---
Tip of the Week
For a fast, but non-permanent fix, use Hydraulic Water-Stop Cement to stop active (but minor) leaks in cracks that are over 1/4" wide. Make a golf-ball-sized quantity of product and force it in the crack with a gloved hand. Hold in place until it hardens (less than 5 minutes).
A Three-Tier Sump-Pump System: Is it Worth Installing?
This three-tier system, from Basement Systems, claims to safeguard a basement from flooding or dampness from three possible sump-pump system failures:
Sump-pump 1 fails (then, sump-pump 2 is engaged)
Sump-pump 1 can't keep up with the amount of water entering the system (then, both it and a more powerful 2nd sump-pump run simultaneously -- allowing more than double pumping capacity).
Electrical power outage (then, a battery-backup sump-pump automatically engages)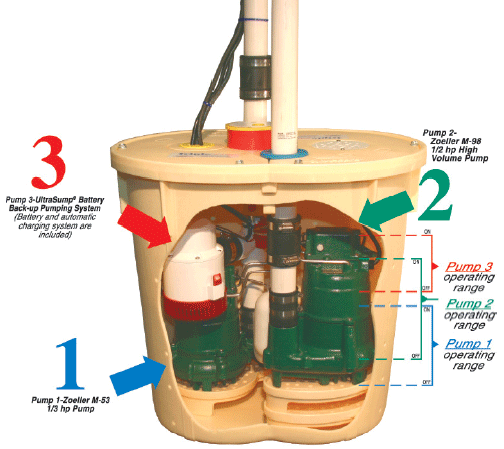 About Us:
We at wet-basements.net are all current or former contractors, and some of us were editors or contributors for leading home- and building-construction/-maintenance magazines. Over the years, we've noticed that over 70 percent of homeowner queries involved water problems: wet basements, leaking roofs or plumbing, mold and mildew, and excess moisture or humidity.
Statistics note that the fourth most common house problem is wet basements. And 50 percent of houses with basements have basement water problems. The eighth most common problem, damaged or missing roof gutters, affects 34 percent of all houses.
The University of Minnesota Department of Public Service echoes these estimates: wet basements plague 50 percent of houses in Minnesota; in our own work as housing inspectors, 75 percent of queries from clients have involved basement water problems. In a press release the American Society of Home Inspectors (ASHI) named wet basements as the problem most often found by ASHI inspectors.
An increasingly common problem concerns home humidity and its attendant problems. To reduce air infiltration and conserve energy, many current building codes call for tight construction, including full wall and ceiling vapor retarders. This requirement helps improve the energy efficiency of the house, but the lack of air entry may also raise indoor humidity levels to unacceptable or even damaging levels. The result can be a multitude of problems, including wood rot, rust and corrosion of the furnace or other steel appliances, damage to the interior plaster or wallboard, peeling paint on both the interior and exterior of the house, ruined insulation, and mildew or mold and their attendant odors.
Other home water problems involve leaking roofs or leaking plumbing, and an increasing concern for water conservation. To answer those concerns, and to offer solutions, we've prepared this web-based guide.
One word of caution. Most of the advice offered in this guide is aimed at moisture problems of houses in geographical areas where there are four distinct sea sons. Therefore, the advice and possible solutions given may not be applicable in all areas of the nation.
For example, the coastal states from the Gulf of Mexico to the Virginias have warm temperatures and high humidity year-round. In these areas, where air conditioning may keep interior house temperatures lower than outdoor temperatures, the "cold side of the wall" will be the interior side. Any vapor barrier should be placed between the wall sheathing and exterior siding, rather than between the wallboard and the studs as is usually recommended. Also, in a narrow band just above these coastal states the weather and humidity are such that no vapor barrier is recommended.
Another example is the recommendations for venting of attics or crawl spaces. In cooler climates it's necessary to vent the moisture from the crawl space to the drier air outside. But in warm, humid climates the exterior air may carry more moisture than interior or crawlspace air, so ventilation may add moisture to these areas and compound any moisture problems.
Building codes and conventional wisdom thus will vary according to geographical region, and readers are cautioned always to follow local building codes, consult local inspectors, and follow the time-tested customs for building in their particular climate.
---
What's New...
We have moved in!! "Wet-basement.net" existed as its own independent site (roughly 2005-2015); we created it concurrently with several other DIY/home-improvement sites. It now exists completely and conveniently within the parent DIY/home-improvement site, 12345w.xyz