---
---
Whether you're considering wood, resilient, masonry, or carpet flooring, the first step toward its successful installation is selection. Use the photographs, illustrations, and charts in this section to get the process underway.
The installation of new flooring is always a dramatic event. Because a floor is such a large surface area and its installation is often the last step in a redecorating or remodeling project, it can seem as if a new floor suddenly and magically transforms the room. It pulls together all the other elements—paint, wallpaper, fixtures, and trim—into one harmonious whole,
While the installation itself seems to produce an instant transformation, it is actually part of a longer process consisting of three distinct phases: selection, preparation, and installation. The three sections of this guide are organized around these three phases. Their purpose is to help you make wise decisions and use appropriate skills in all three phases, no matter what type of new flooring you select, how much of the work you do your self, or how extensively you choose to engage professional help.
---
Section 1:
Section 2:
Preparing to Install:

Wood Flooring
Resilient Flooring
Ceramic Tile
Carpet
Section 3:


Installation
---
The first section helps you with the selection phase in two ways. First, it gives you a broad perspective by treating the floor as a major design element in each room and by discussing the factors you'll want to consider in making your selection. Second, it offers you specific options from which to choose. Your selection adventure begins with an overview of floors in general. This is followed by four sections that cover each category of flooring materials—wood, resilient, ceramic, and carpet—in greater depth, helping you to narrow your choices and move toward a final selection of material that is right for your floor. The section ends by offering guidelines for working effectively with professionals, measuring your room, and estimating the amount and cost of materials.
Section 2 focuses on the critical process of preparing a floor surface for new finish flooring. It reviews the anatomy of both wood-frame and concrete floors, and outlines specific preparation requirements for laying each type of flooring material over various existing floor conditions. Then it illustrates how to remove flooring and trim, make surface repairs to existing floors, and add whatever underlayment may be needed. The section also presents the techniques for handling and storing each type of material, and the tools that will be needed for installing it.
Section 3 covers the installation steps for each type of flooring material, from planning the layout and marking the lines that guide the installation to attaching the final piece of trim. Whether you are a committed do it-yourselfer or prefer to hand the details of installation to someone else, you can use this section (as well as Section 2) in Iwo ways: as a guide for providing professionals with important information about your floor and your preferences or as a step-by-step workbook to guide you through those phases yourself.
Once again, you'll find that a successful floor installation requires careful attention to all three phases: se lection, preparation, and installation. You may discover that you enjoy the process almost as much as that final day when you stand in the middle of your new floor, admire the work, and enjoy the finished effect.
In this attic workspace, granite tile flooring restates the crisp, gable-beamed ceiling. When a floor's design enhances existing architectural elements, it helps create harmony and vibrancy within the space. And when carefully chosen for color, texture, and pattern, flooring materials—even those that may seem cool and hard—can provide richness and ambient warmth.
A Perspective on Floors
Floors are a strong design element in your house, often setting the tone or feeling for the whole environment. Because they form the ground plane and are a major horizontal element of the room, floors have the potential to integrate space and become the foundation for your interior design. Whether subtle or dramatic, a floor can direct how a room is used, establish its ambience, and tie its design elements together.
Because floors are such an important part of a room's design, you'll want to select new flooring care fully. Your concept of beauty is constantly evolving and changing and the simpler the floor treatment, the more flexibility you'll have in the room's design and use over time. It is much easier and less expensive to change the color of your walls, or to introduce new furnishings and accessories, than it is to install a new floor. So select your flooring material with an eye on the future, as well as on your current inclinations. If you opt for a dramatic and exciting design and decide that you want to use the floor to create it, then be bold, Use the floor as the keynote for the design, and let the other elements and features — furniture, lighting, and accessories—play a supporting role.
As a general guide, good design is simple design — although simplicity isn't always easy to achieve. It requires a high level of restraint, thoughtfulness in planning, and care in execution.
Light and dark. A light floor, like light ceilings and walls, will make a room look more spacious and open by reflecting more of the available natural light, and more artificial light as well, Darker tones tend to con tract and confine space, but can also make the room appear warmer and more intimate or cozy.
Color. Almost as much as light or dark, color has the power to affect the ambience or atmosphere of a room. More than any other element, it can unity an interior design throughout the house. The same color or the same color theme, used in successive rooms, helps to integrate interior spaces—even in a house that com bines different design styles.
Different colors create different effects, and color preferences are very personal. Some color preferences, however, are actually color "prejudices." They can be as simple as "I need dark colors in my house because I have small children," or "I always wanted a pink room when I was young." If pink is a favorite color from your past, you'll want to make sure it will be an enduring favorite before you do the whole house in it. By the same token, dark colors don't always hide dirt, and they aren't always easier to keep clean. If you're unsure of the de sign or color direction you'd like to take, you may want to consult with a professional interior designer. Good de signers can help you define just what it is you want, and show you how to accomplish it.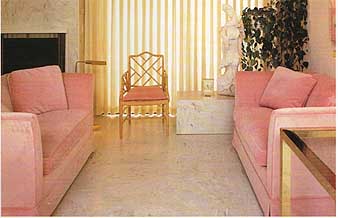 Two-by-two-foot-square solid vinyl tiles give this living room an elegant simplicity that can be dressed up or down. Softly marbled celadon and white form a neutral ground for furnishings.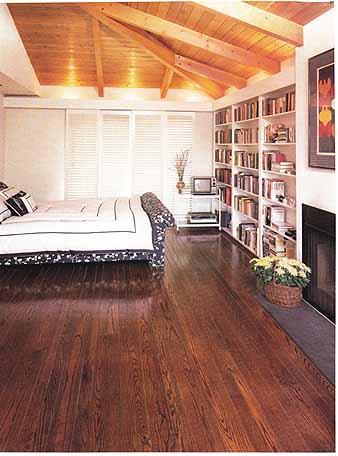 Wood used top and bottom sandwiches bright white walls and bed coverings, which sparkle against the dark wood strip floor.
Pattern and scale. Again, simplicity is the key to good design when working with pattern and scale. Large pat terns tend to decrease the apparent size of a room, especially if the pattern contains several colors. Busy pat terns can distract from other design elements, and may make it harder to change the room in the future. An effective floor pattern need not vie for attention—it can simply provide a background for other, more flexible expressions of taste.
Scale refers to the proportional relationships of de sign elements. It is especially important when single units, such as tiles or stones, are used. For example, there is a particularly pleasing relationship between the size of tile or stone units, the width of grout lines, and the size of the room. Professional installers have charts which outline these relationships, so that the floor pattern looks proportional to the room, and therefore, visually balanced and pleasant.
Texture. Texture can also affect the room's ambience. For instance, a stone floor in a small, dark room may feel cool and inviting in the desert states, but more like a chilly dungeon in northeastern areas. When flooring materials have to change from room to room for practical reasons, you can still retain a unified design by keeping the color consistent and just changing the texture—for example, by using ceramic tile in the kitchen next to a carpet of the same or similar color in adjoining rooms. Some carpet manufacturers offer the same color carpet in a variety of textures or weights: heavy-duty, low-loop pile for the dining room or playroom; luxurious plush for the living room; and less expensive, less durable pile for a bedroom where the traffic tends to be light. You can also use texture to practical advantage. For rooms where the floor may get wet—kitchens, bath rooms, laundry rooms, and entryways—choose a material with enough texture to prevent slipping.
People. At the heart of the matter, rooms are for living. They create the background for people and the range of activities they engage in. The purpose of the design, planning, and selection phase is to create the most enjoyable room possible for the people who will use it. The articles that follow will help you accomplish this goal.
For each of the four main types of flooring materials—wood, resilient, ceramic and other masonry, and carpet—you'll find an extensive section describing and illustrating the nature of the material, its aesthetic and functional qualities, and special characteristics of the different forms in which the material is sold.
Use these sections in two ways: (1) to compare and select among the four major categories of flooring materials, and (2) to make more specific selections within a category. The section is designed for both browsing and more careful reading. Use it both ways, and enjoy creating a new environment with your new floor.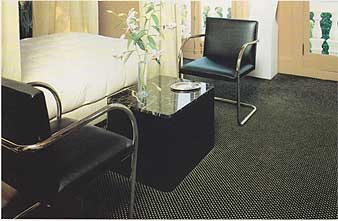 A tan-on-black color theme gives substance to this bedroom without sacrificing its airy quality. The simply-patterned carpet ties together walls and furniture, while accessories provide bright highlights.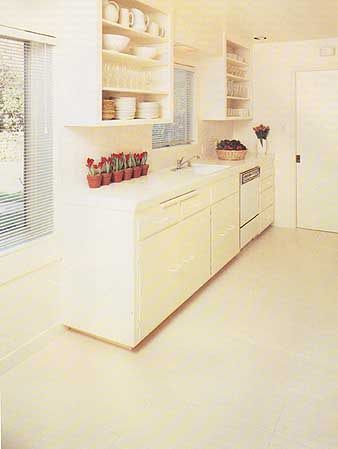 Large-scale white ceramic tiles in a white grout grid, provides visual continuity and expands the apparent size of this kitchen.
Next: Wood Floors