---
---
With its wide range of colors, fibers, and textures, carpet is one of the most luxurious choices for flooring. Its softness and resilience invite you to sit or stretch out on the floor itself. The higher and denser the pile and thicker the pad, the warmer and quieter it is to walk on. The broad expanse of a carpet creates a simple sweep of color which can provide a quiet visual foundation for the room and at the same time, greet the eye with a delicate play of light and luster. These qualities have made carpet a favorite choice for almost any room.
When considering carpet, keep in mind the nature of the material as it relates to the room's function. For example, is the room subject to moisture? Because many carpet pad materials, carpet backings, and pile fibers are absorbent, carpet materials can be subject to moisture damage. For installation in kitchens and bath rooms, choose carpet fibers that resist moisture and aren't subject to mildew. If ventilation is also a problem, you may want to consider an alternative material.
By its nature, carpet has a great deal of surface area—the top of a carpet consists only of the tips of the fibers, but the sides of these fibers are also part of a carpet's overall surface. Because of this, carpet fibers catch and hold grit and dirt. These particles will abrade and dull the carpet or even cut off the fibers unless they're regularly removed by vacuuming. For areas of heavy traffic, such as entryways, or areas that are subject to spills and crumbs, such as kitchens, dining rooms, and even family rooms, you will want to consider the maintenance implications of carpet as a flooring option. In some cases you can compensate for these functional considerations by selecting a low and dense carpet pile.
Because carpet has thickness and flexibility and is usually laid over a pad, it can be used on floors that have surface irregularities, essentially hiding or camouflaging them. When other flooring choices might re quire extensive subfloor preparation, carpeting may be an effective way to transform the room easily.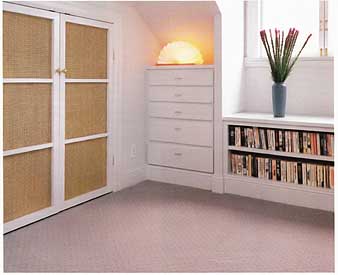 A quiet basket-weave pattern in this neutral gray and white carpet keeps a simple space feeling tailored and calm.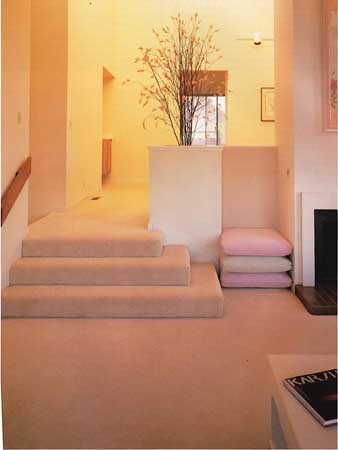 Plush carpet in a warm creme links one space to the next with an easy three-step transition. The architectural space retains its expansive quality without losing a feeling of quiet elegance, warmth, and comfort.
Planning & Design Carpet Floors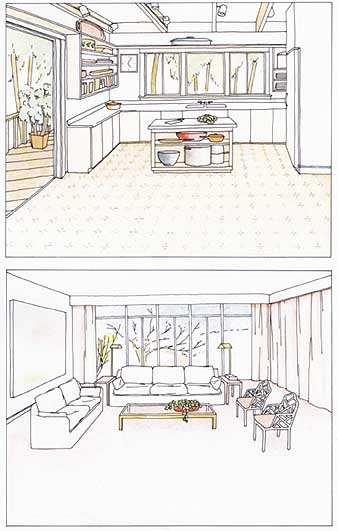 (above) Carpet in the kitchen odds a softness and warmth that can make the kitchen an inviting, full-range living area for family and friends. A small grid-like pattern of contrasting points of color provides visual interest without drawing undue attention to the floor.
Carpet in the kitchen makes sense when soil and spills are infrequent events, and the lower and tighter the pile, the easier it is to maintain this type of material. (below) Plush, luxurious, uninterrupted color leads the eye through the living room and out to the landscape beyond, signaling expansion, calm, quiet, and comfort. Though gracious and refined, carpet almost serves as a piece of furniture: being a warm, textile material, it invites you to settle down and stretch out.
When selecting any flooring material, you address a number of design issues. l the first is the ambient quality of the room and the overall feeling you want it to have. The illustrations below show how carpet can create different effects in the look of the same four room settings shown throughout this section.
Carpet gives a broad, expansive, soft look, and offers you a wide range of colors and textures from which to choose. Both of these design features—texture and color—speak with a potentially strong voice, so if your priority is for bold color, choose an even texture. If your priority is a carpet with a lot of texture, choose a quiet color. Bright and vivid colors are enticing on the swatch, but select them with care. They make a forceful statement which can be overwhelming when installed throughout a room, and the color can lose its appeal over time. Neutral colors such as beige, taupe, creme, celadon, and grey are generally a good design solution. They yield a versatile background that does not conflict with the room's overall decorative scheme, and neutrals can also satisfy the urge for color in the richness of their texture and pile.
To ensure that your carpet installation is both cost-effective and enduringly attractive, carefully plan the layout. You'll want to figure out both the pile direction and the best seam placements. Carpet pile — whether it is looped, cut, or sculptured, has a definite direction, or nap. When you install carpet with the pile leaning to ward the main doorway, you get the most lustrous visual effect of color and texture as you enter the room.
If you have to seam carpet, make sure the pile of each piece is oriented in the same direction, so that the visual effect is one of a continuous surface; the seams will be concealed by that continuity. Avoid placing seams in areas that bear heavy traffic. Don't place a seam across a door opening; traffic will eventually take its toll and loosen the seam. Whenever possible, keep seams perpendicular to the largest window openings so they are parallel to the rays of light, and less visible than those that cross the rays.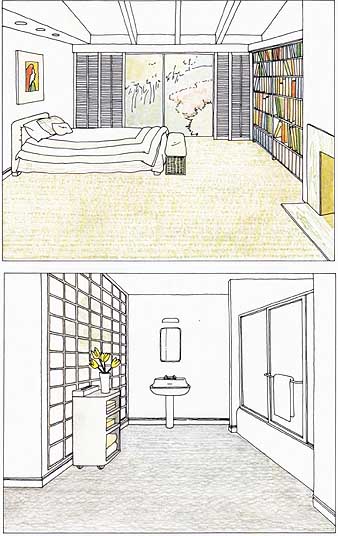 (above) Soft texture and a single sweep of wall-to-wall color reflect the nature of a bedroom—a peaceful place wrapped in calm and quietude. Furnishings enhance the effect by picking up the same color theme so that all interior treatments work together to shape a unified whole. (below) Carpet in the bathroom counterbalances the cool edge of typically slick-surfaced fixtures. This flooring approach makes a hard environment softer and more luxurious—even when using low-pile materials in neutral colors. Man-made fibers won't absorb water, which makes carpet a suitable finish for bathroom floors.
Selecting Carpet Materials: Selection Chart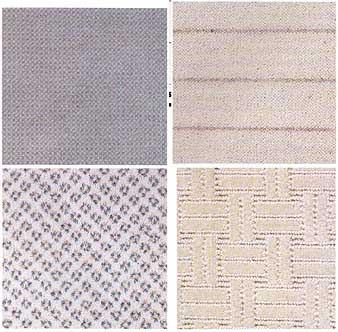 Loop-pile carpet with a narrow stripe gives a definite visual direction to the room in which it is installed. Woven carpet, with a tiny blue grid over a contrasting background, gives subtle highlights and color variations.
Cut-pile carpet, in a larger scaled three-color theme, makes a stronger statement of pattern.
Cut-and-loop pile can create an orderly pattern and subtle texture through the design of the weave itself.
CARPET MATERIALS:
---

---

Wool

Nylon

Polyester

Acrylic

Polypropylene Olefin

---

---

Resiliency

Excellent. Feels springy underfoot.

Very good. Resists crushing.

Fair. May crush.

Good. Almost as resilient as wool.

Differs depending on type of pile and carpet construction.

---

---

Resistance to: Soil

Very good. When soiled may be difficult to clean.

Very good. More easily cleaned than wool.

Fair. Cleans well.

Good. Must be treated after deep cleaning.

Very good — doesn't hold soil.

---

---

Abrasion

Very good.

Very good.

Excellent.

Low.

Very good.

---

---

Static

Tends to hold static unless treated.

Metal threads almost always included to resist static

Not prone to static.

Will not hold static.

Will not hold static.

---

---

Fading

Direct sunlight will damage fiber over time.

May be damaged by prolonged exposure to sunlight.

Damaged by heat and sunlight,

Good. High color life.

Usually treated to resist fading.

---

---

Mildew and Pests

Usually treated by the manufacturer to prevent damage.

Fiber naturally resists damage from mildew and pests.

Treated to resist mildew. Not likely to attract pests.

Fiber naturally resists damage from mildew and pests.

Fiber naturally resists damage from mildew and pests.

---

---

Relative Cost

High.

Medium to high.

Low to medium.

Low to medium.

Low
Some fibers age better than others. But then, you may not want to live with the same carpet forever, and this can affect the quality of the carpet you choose. Wool continues to be the best-quality carpet you can buy, but it is also the most expensive. Manufacturers have been steadily improving the quality of man-made fibers over the last 30 years, and there are many beautiful and durable synthetics which are usually less expensive than wool. The characteristics of carpet fibers and how the carpeting is made affect its durability. Consider these other important selection issues:
Weave. Ninety-eight percent of carpet sold is tufted—the yarn is pushed through a primary backing to form loops, and then bonded to a secondary backing. Next most common is woven construction—the yarn itself is woven together like a tapestry to form its own backing. Woven carpet, including Axminster, Wilton, and some velvets, is more expensive than tufted carpet.
Density. Generally the more yarn per square inch, the more durable the carpet.
Twist. High-quality carpet has resilience; it has tightly twisted yarn which readily springs back to its original shape when crushed.
Cost. Quality is almost always directly related to cost—you get what you pay for, In general, carpet costs have not risen as rapidly as those of other types of flooring.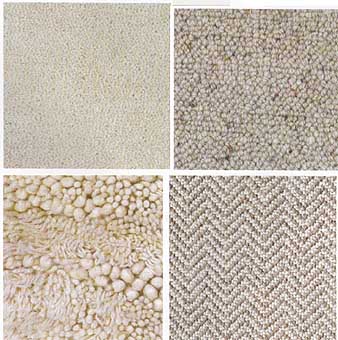 Cut pile, plush and elegant, gives a fresh, soft effect with a continuous sweep of light, bright color. Loop-pile carpet, lightly salted and peppered with a variety of colors, gives the effect of a neutral tweed.
Loop-pile carpet in bands of alternating colors, gives a tailored, clearly defined herringbone look. Cut-and-loop pile carpet renders a varied, random pattern using texture as the key design element.
Prev.: Ceramic & Masonry Floors
Next: Planning Your Project