---
---
Ceramic tiles and other masonry flooring, such as brick and stone, are natural and durable materials that create a feeling of tradition, permanence, and substance in a room. Depending on the type of material you select—rustic "country" brick, rich elegant marble, or casual but tailored quarry—masonry tiles set the level of a room's formality and its style. They can be used in any room in the house, and require relatively little attention once they are installed. Each adds special qualities to the character of the room, but because they are all made of earth materials, they also share some common characteristics which should be kept in mind—along with the room's function—when considering masonry.
First, masonry materials tend to be cool to the touch, an advantage in hot weather, but a possible source of discomfort in cold climates (unless they are installed over a radiant heating system or are used to collect solar heat). Because they are also heavier than most types of flooring, wood-frame subfloors may have to be reinforced to carry the extra weight. The thicker materials will also raise the floor level; this may make them impractical where floor levels are established and raised transitions to other rooms might be awkward.
Ceramic tiles with glazed surfaces are water-resistant. The grout lines between them, however, are not— unless they are carefully sealed. Unglazed surfaces are water-permeable, although you can either wax or seal them against water absorption.
Masonry materials tend to be slippery when wet; choose products with enough surface texture to provide adequate traction. Masonry also tends to deflect sound, rather than absorb it. If the acoustics of the room are important, use unglazed or textured materials, which will absorb sound best. You may also want to consider a different type of material.
By their nature, ceramic and other masonry materials are unit materials, which, when assembled together over the floor's expanse, create a pattern. You'll want to include this—and other design issues described below—in your selection considerations.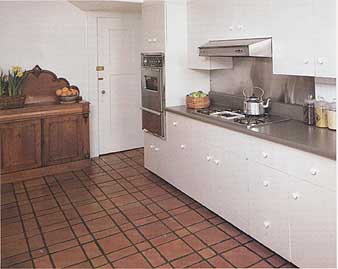 Three different tile sizes join to form a larger pattern, punctuated by slate-colored grout. Hand-hewn tiles provide an equally attractive background for old or new furniture and cabinetry.
Below: Blue and white ceramic tiles repeat the clean cabinetry lines above. Although the tiles look mosaic, each tile has its own grid glazed within it.
The planning and design issues for ceramic tile, brick, and stone are relatively straightforward. The size of the tile and its shape, color, and surface texture work in tandem with the pattern and color of grout lines to form an ordered geometric grid. The color of the grout, relative to the color of the tile surface—depending on whether they are contrasting or monochromatic—either accentuates the grid pattern or minimizes its visibility. The scale of the tile creates an effect that varies with the scale of the room, For example, in a large room, small units tend to visually blend together so that they appear as an even pattern across the floor. On the other hand, large tiles will stand out as distinct units. In a small room, quarry tiles will seem extraordinarily large and bold, and will tend to jump expressively forward, whereas ceramic mosaic tiles will look relatively quiet, and appropriately in scale.
Planning & Design Ceramic & Masonry Floors
Because a tile floor is composed of unit pieces, pat tern is a dominant aspect in the flooring design. Tiles of contrasting color can be used effectively to set a special pattern into the new flooring, defining or separating spaces. This pattern may feature a wide border, a narrow band, or a geometric design or mosaic in the center of the room. Grout lines themselves can be part of the floor's design. The net effect of grout lines in the same color as the tiles is a clean-lined, tailored floor with a subdued grid of intersecting lines. If a contrasting grout color is used, the grid itself is highlighted and stands out. Surface finish, texture, and color also play a role in the room's design. Dimpled or pocked tile looks hand- worked and casual. Smooth glazed tiles tend to look more austere and refined. Color options range from vivid hues to neutral and natural tones. As with other types of flooring, the more natural and neutral the color, the more flexible the space when coordinating masonry materials with other design elements.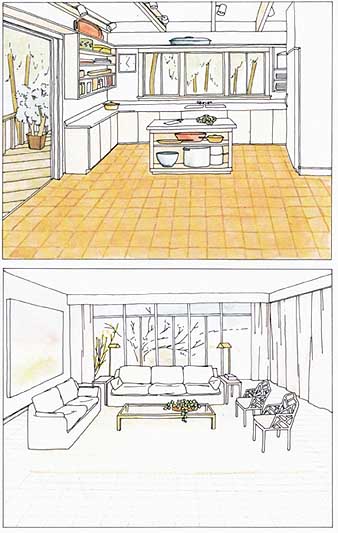 (top) Traditionally, masonry materials have enjoyed high esteem as a flooring choice. They elicit the feeling of substance, create a pleasing visual rhythm, and lend a sense of scale to the space—all of which can be valuable design features. Although they sometimes require special care, their ambient qualities are appreciably receptive, homey, and attractively comfortable. (bottom) An orderly grid of hard-surfaced, glazed ceramic tiles can present a tone of coolly refined formality in a living room. The effect is tailored, though tensioned and controlled. An expansive island of warm, plush carpet defines the main gathering area, beckoning you to cross the tile boundary, stretch out, and relax.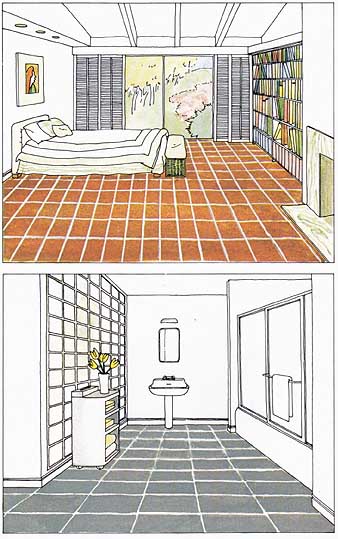 (top) The rhythm of the grout-line grid, and the smooth, substantial look of terra cotta quarry tile, creates an attractive effect in a softly and simply furnished bedroom. Natural earth tones visually link indoor living areas with the landscape outside, rendering an inviting, cool-to-the-touch, but warm-to-the-eye living space. (bottom) Natural masonry materials, such as slate, can be strikingly beautiful as a flooring material, giving this bathroom a sophisticated simplicity. Though expensive, masonry materials can achieve high returns in design for a small investment in dollars when they are used in small spaces. When properly finished, the surface won't be harmed by water and the material's inherent texture provides traction underfoot.
Selecting Ceramic & Masonry
Installing a ceramic, brick, or stone floor requires an investment of time, money, and effort. The floor isn't likely to be replaced for a long time. You will want to take special care in selecting the right material for your floor. To help you narrow the range of choices, consider your selection from two points of view: first, the substructure's inherent strength; and second, the new material's characteristics.
With masonry materials, there are some special structural considerations. The additional weight of the heavier of these materials can overstress a wood-frame floor and even the foundation below it unless they are de signed to carry the load. For concrete slabs, weight isn't an issue.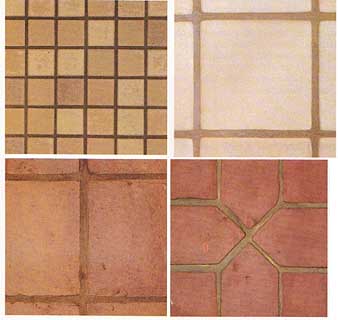 (top) Hand-made terra cotta payers, unglazed, set with a punctuated, though harmonizing, grout.
Smooth, low-sheen glazed ceramic tiles of medium scale, set with contrasting grout.
Square mosaics, mottled in tones of the same color family, glazed matte surface, set with a deep-toned grout.
French terra cotta tiles of various sizes and shapes, create a distinct pattern when set together.
Functionally, you will want to consider how the material will be used. If water is likely to get on the floor, the width of any grout lines and the material's surface finish are important. Unglazed quarry tile does not sufficiently resist water or staining for use in a kitchen unless it's sealed. Also, many of these materials are slippery when wet unless their surface is textured to provide traction. Because many of the heavier stone materials are laid in a thick bed of mortar, their installation is usually left to professionals, although such an installation is not beyond the skills of a serious do-it yourselfer. The preparation and installation sections of this guide will focus on ceramic tile flooring installed over a thin, adhesive bed.
Materials: Selection Chart
CERAMIC, BRICK, & STONE FLOORING MATERIALS
---

---

Ceramic Tile and Ceramic Mosaics

Quarry Tile and Pavers

---

---

Sizes and Shapes

1" to 6" ceramic mosaic, usually ¼" thick. 4" to 10" ceramic tile, from 3/8" to 1/2" thick, Squares, rectangles, other geometric shapes. Rounded or squared edges.

4" to 12" units, 3/8" to 7/8 thick. Squares, rectangles, and random, roughly geometrical shapes.

---

---

Colors and Textures

Wide variety of brilliant and muted colors. Glossy, matte, and textured non- slip. Ceramic mosaics may be porcelain, china, or glass.

Natural earth tones, some blues and greens. Mexican payers can be stained almost any color. Matte or textured non-slip.

---

---

Finishes

Top layer is sealed when color glaze is baked on.

Unglazed tiles must be sealed to resist stains; they may be waxed. Mexican payers are very soft and can be sealed.

---

---

Relative Cost

Medium to very high.

Medium to high.
---

---

Marble

Slate and Other Stone Materials

Brick

---

---

12" to 18" units. ¼" to 3/8 thick. Squares and rectangles are common shapes.

12" to 24" squares or rectangles, and irregular or random shapes up to 24" wide. Large slabs up to 6' can be ordered.

7" x 11 1/2" x 3 5/8" rectangles. Splits available thick.

---

---

Unusual colors and patterns, depending on origin. Glossy or matte finish,

Colors and mottling depend on origin; some have oxide deposits.

Dark red "new" brick, dark red and white mortar-textured "old" brick. Splits come in a wide variety of earth, blue, and green tones.

---

---

Should be sealed and polished professionally. May be waxed with a special product.

Most should be sealed for best wear.

Sealing darkens slate. Waxing is unnecessary.

Should be sealed.

Waxing is unnecessary.

---

---

Medium to very high.

Medium to very high.

Low to medium.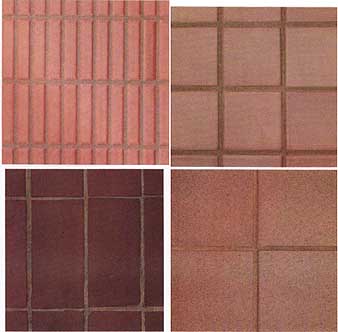 Glazed, glossy, smooth-surfaced square tiles of a small scale, set with a semi-contrasting grout.
Glazed, narrow rectangular mosaics, pre-glued to backing sheets, set with a harmonizing grout.
Machine-made quarry tiles, unglazed, open textured, set with a monochromatic grout.
Rectangular, brick-scale Italian terra-cotta tiles, set in a concrete mortar bed, create a visual direction.
Prev.: Resilient Floors
Next: Carpet Floors