---
---
French doors are used as both entry patio doors and as interior doors that separate two spaces. These doors are popular because they allow some privacy, while allowing a visual connection between two spaces. Patio French doors often open on to a deck or a backyard patio, and may be used with a screen door system. Interior French doors are often found in the entryway between a dining room and kitchen or living room, the doors allow light to flow between the spaces. Curtains and blinds are sometimes installed, just as with an exterior window, to provide more privacy. A divided-glass-panes design is the most popular.
Installation Guidelines
French doors are offered in both in-swing, and out-swing fittings. When selecting doors for the interior or exterior opening of your home, be sure to plan for space around the door swing. Unlike pocket doors and sliding doors, French doors command more space for operation. Take the width of the door and layout a radius around the pivot point on both sides of the jamb to see how much space you'll need to allow.
French Door Design
Design options for French doors include window types, glass types, material of door, color, and size. Manufacturers offer standard French door styles that are readily available to fit standard door openings, and custom options that suit unique and older spaces. Usually installed as a pair of doors that swings out from the center of the door opening, there are two standard types of French doors available: In-swing and Out-swing. There are a number of design options available. Your doors can have a flat panel of glass with no grills or grills with simulated divided lites, which are more common. The lites usually extend the entire height of the door, as shown to the right. Lites also are available in half- view and three-quarter view options, allowing some light to filter into the space and affording more privacy.
Standard door sizes start at 1 ft 6 in (460 mm) and are offered at 2-in increases to 3-ft (915-mm) wide. Fitting with standard door openings, stock door heights are 6 ft 8 in (2 m); 7 ft (2.15 m); and 8 ft (2.5 m). If you live in an older house or have an unusual door opening, there are manufacturers who offer custom sizes. Doors are also available in a variety of colors. Blinds and shades are commonly used, just as on windows to filter light and add privacy to a space.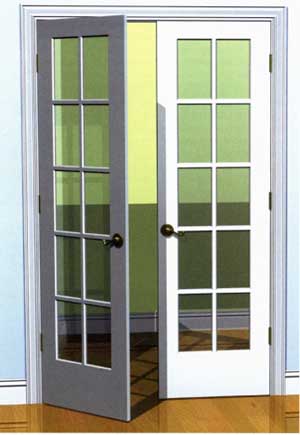 Full-view interior French doors: French doors are typically constructed of glass panes surrounded by a frame, similar to the look of a standard window. This set of full-view 10-lite French doors has levered hardware.