---
---
When choosing a garage door, it's important to consider the appearance, material, construction, and method of operation (manual or automatic). Garage doors are usually either tilt-up or sectional roll-up. They are offered with flush, raised panel, or recessed panel designs. Your decision will depend on budget, design, and the structure of the garage itself -- you may need more than one door in a double garage.
Types of Garage Doors
Garage doors, traditionally made of wood, are now available in various materials. Steel and aluminum are commonly used, as is fiberglass. The latter is particularly popular, because it's lightweight, strong, and easy to maintain. Weight is an important consideration; a lightweight door is particularly desirable if it's large, or if an automatic system is being installed. If you plan to install doors yourself, even lightweight ones will be difficult to handle alone, so make sure you have help during installation. Also remember to think about your old doors. They aren't small items, and you may have arrangements for their disposal to make special
Automatic Door Openers
Today's garage-door openers offer photoelectric safety devices that reverse the door if an object breaks the light beam, door openers on key chains, openers with security codes, and electronic openers, which also operate lights and other electronic devices in the home. Electric garage openers also function as the garage lock, making it very difficult for an intruder to lift your door from the outside.
With all of the safety devices, one of the surprise frustrations electronic door openers bring is the inability to open during a power outage. Installing an emergency release kit on your garage door will enable you to open the door manually in the event that there is no power to operate it.
Materials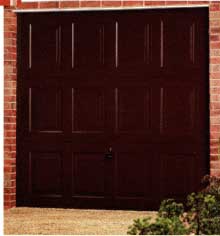 Steel tilt-up: Although not as light as fiberglass doors, steel canopies still provide a relatively lightweight feel, and are easy to open and close by hand.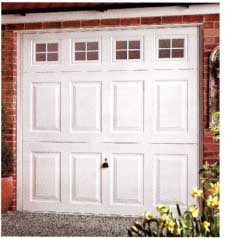 Fiberglass tilt-up: This type of door is made of lightweight material, and has a pivot mechanism allowing for easy opening and closing by hand.
Opening and Closing Mechanisms
Garage doors have a wide variety of opening and closing mechanisms. Some are similar to those used by other entrance doors, and some are used only with garage doors. Sectional (roll-up) garage doors are the most popular type offered. One-piece doors are typically less expensive, but require more headroom in the garage. These doors are often called tilt-up or swing-up doors. Almost any type of door can be automated (see figure).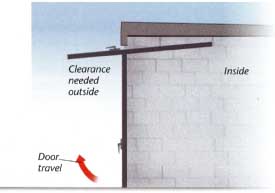 Tilt-up: canopy: Canopy tilt-up doors have a pivoting hinge mechanism that allows the door to be lifted upward and slid back at ceiling level into the garage. A portion of the base of the door protrudes from the garage, providing a small overhang or "canopy." This is the simplest tilt-up mechanism, and the system is secured to the sides of the frame, saving space.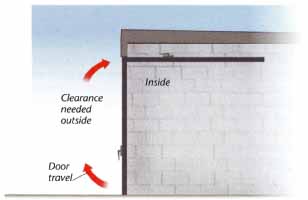 Tilt-up: retractable: A retractable tilt-up door operates in much the same way as a canopy door, except that the door retracts fully into the garage at ceiling level; it's suspended on a framework independent of the door frame, and therefore occupies a little more space than a canopy mechanism.