---
---
If you plan to purchase a door slab, instead of a pre-hung door, or if you are adding a lock to a door, you will need the following steps on installing deadbolts and locksets. As shown here, there are many types, styles, and finishes available for door hardware.
Some are easier to install than others, and when selecting your new locksets, consider your level of expertise with this type of DIY work. If you require a lockset or special hardware that requires more skill to install, contact a professional for help.
1. Layout the Position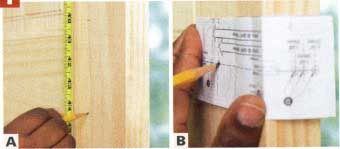 A. Measure and mark the location for the new lockset on the door slab with a pencil and tape measure. B. Most manufacturers supply a template to aid with lay out. Some are meant to be taped to the door, others are used to make marks.
2. Drilling Holes for Lockset and Deadbolt


A. Using a hole-saw and a drill, make a hole for the lock and deadbolt through the door slab. Do not go all of the way through. B. Turn the door over and drill the hole from this side to complete the hole for the lockset. Repeat for the deadbolt. C. The next step is creating a hole for the latch bolt. Drill holes with a spade bit through the side of the door, following the manufacturer's template.
3. Installing the Deadbolt and Lockset


A. Insert the latch bolt inside the hole made above in step 2-C. Trace around the strike plate on the door. B. Using a utility knife, score the door along the outline. C. Strike a chisel at intervals within the score lines to create cuts. This will make it easier to remove the material.


D. Using a chisel at less than 45 degrees, remove the material inside the score mark, so that the strike plate can fit flush with the door. E. Insert the latch bolt in the hole, making sure the strike plate is flush. Attach the latch bolt assemblies with fasteners. F. Connect the deadbolt face and the lockset handle to the latch assembly according to the manufacturer's instructions.