BUILDING REGULATIONS
Check with the local building code department before replacing any windows, New windows may be subject to energy regulations or emergency escape and rescue requirements.
If you are working on a historic building, you must check with the local building department and /or the historical preservation board before replacing any windows.
WINDOW MATERIALS
Most styles of windows are available in a number of different materials. Each material has advantages and disadvantages in terms of maintenance and appearance.
Wood: Windows were traditionally made of wood, and it's still popular because it's so versatile. If old windows are drafty, you can install weather stripping. Hardwood is expensive, but is durable and only needs the protection of oil. You can also paint hardwood windows or give them a natural finish. Softwood windows need to be protected by paint or a natural wood finish, and regularly maintained
Vinyl: Double-glazed, vinyl windows offer excellent heat and sound insulation. Old windows are often replaced throughout a house by new vinyl windows. In addition to white, other finishes are available, such as wood-grain. Vinyl requires little maintenance.
Aluminum: Where maximum light is required, aluminum windows can be an excellent option -- the strength of aluminum means a thin frame can support a large expanse of glass. However, aluminum conducts heat out of the home and is prone to condensation. Double-glazing may be required by building regulations to reduce heat loss. Old aluminum windows were prone to rust, but modern versions are coated during manufacturing and are durable and low-maintenance.
Other materials: Windows can be made from a combination of materials. Aluminum windows, for example, often have a wooden core, and steel casements can be housed in wooden frames to reduce heat loss. Frames with decorative real wood on the inside, and maintenance-free fiberglass or vinyl exteriors are also available. Traditional lead lights are made up of small pieces of glass held between strips of lead within a wood frame. Other types of windows are available with lead-light-effect double-glazing.
SHAPE DIFFERENCES
Although most windows are square or rectangular, many shapes and architectural variations exist. Round windows and arched windows are often used above doors, for example. Windows that project out together with, or proud of, the walls of a house are referred to as bay windows, or bow windows if their profile is rounded. These are generally composed of a number of casements that are joined by a larger and more substantial frame. Large windows with a single, non-opening pane of glass are often referred to as picture windows because of the way they frame the view.
When replacing a window with an uncommon shape, you will usually need to go to a specialty supplier, who will often measure up and install the window for you, as well as manufacture it. If you want a wooden window, then consider hiring a master carpenter.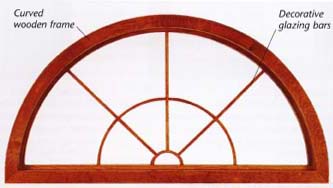 Curved windows: Decorative, curved fixed windows are often used above square or rectangular windows, or sometimes doors. Their frames are fixed in place using the same method as for other types of window. (Curved wooden frame; Decorative glazing bars)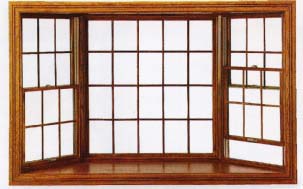 Bay windows: This period design is made up of a combination of fixed and opening sashes or casements. Large windows may help support the walls above, so seek professional advice before replacing them.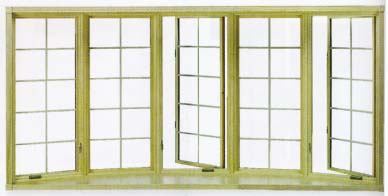 Bow windows: Despite their curved profile, a bow window is usually made up of flat casements. Always seek professional advice before replacing very wide windows -- they may have reinforced mullions with a structural role.