Common types of windows:
Side-hinged casement and sliding sash windows are still very popular, although pivot and awning windows are becoming common. There are variations on these themes, with each type of window made in many different sizes, shapes, and styles.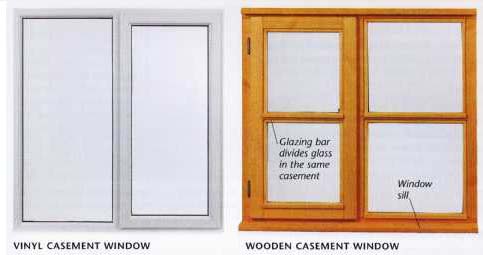 Casement windows: As well as the metal casement shown opposite, vinyl and wood casements are also common. In the following pages, we have lots more information on the properties of different materials. Shown above are a VINYL CASEMENT WINDOW, and a WOODEN CASEMENT WINDOW: Glazing bar divides glass in the same casement; Window sill.


Double-hung window: A distinctive, traditional design with two vertically sliding sashes. Modern sashes are made of wood or vinyl, and some versions allow tilting of sashes for easy cleaning.
Custom casement screened window: Custom windows offer you a selection of sizes and styles that can meet any needs. When you order custom windows, you have options to include special glass, lites, or other features like this window screen. (Side swings out; Screen fabric rolls dawn)
Awning window: Butt hinges are used along the top edge of older designs; newer awning windows use friction hinges at either end of the top edge (see below). Both arrangements allow the bottom edge of the window to swing open.
TYPES OF WINDOW MECHANISMS
There are several different mechanisms used to open windows. How a window opens can have implications on how space in a room is used -- clearance may be needed to enable you to open some windows. Some types, known as "tilt-and-turn windows," have combination hinges and can open vertically or horizontally, depending on how the handle is operated. The opening mechanism of an existing window can't normally be changed.


Butt hinge: This is the simplest opening mechanism. Hinges are attached down one side, or along the top edge on a "top-hung" casement.
Weights and balances: Vertically sliding sashes use lead weights or modern spiral balances to hold them in position. Horizontally-sliding windows run on tracks, similar to those for patio doors.
Pivots: Tilting casements pivot halfway down each side, or midway along the top and bottom of the frame. The pivots are designed to hold the window in any position.
Friction hinge: These are used on awning and casement windows. The hinges are at either end of the hinged edge, rather than along the edge itself. The "friction" holds the window in any open position.