---
---
There are many types of glass and several installation techniques to consider. Modern manufacturing techniques have produced glass to meet a number of specific needs. Some types of glass are required by law in certain situations, so check the building code. For example, wired or fireproof glass needs to be used in fire doors, and laminated or tempered glass in floor-to-ceiling windows. To install glass in wooden frames, you can choose between putty or glazing beads. Metal and vinyl frames often have special systems built into them.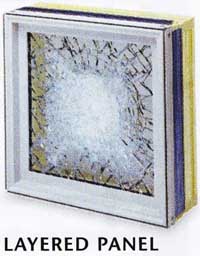 Shatterproof Glass: Impact-resistant glass is designed to reduce hurricane damage. This glass has a rigid laminate layer heat-sealed between two layers of glass, one of which provides greatly increased rigidity and "tear" resistance. (LAYERED PANEL).
TYPES OF GLASS
Standard glass: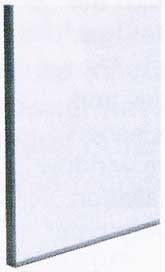 Float glass: Clear, "normal" glass. The perfectly flat finish is created by floating the hot, liquid glass on top of molten tin.
Heat-efficient glass: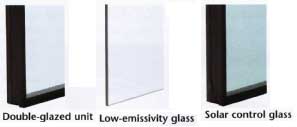 Double-glazed unit: Two sheets of glass have a layer of inert gas sealed between them to provide heat and sound insulation.
Low-emissivity glass: A special coating lets heat from the sun in, but prevents warmth from escaping back through the glass. A common component of double-glazed units.
Solar control glass: Excessive heat from the sun is blocked from passing through the glass. This reduces heat build-up in buildings with large expanses of glass.
Strong glass:


Laminated glass: Clear plastic bonded between layers of glass produces a very strong product. If it does break, the plastic prevents shards from flying.
Tempered glass: This glass is strengthened against impact, and shatters into granules rather than shards. It is commonly used in glazed doors.
Wired glass: The wire stops glass from shattering in high temperatures, so it's used in fire doors.
Fire-resistant glass: New fire-resistant glass isn't strengthened by wire but is just as strong, although expensive.
Specialty glass: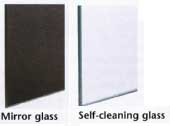 Mirror glass: To make household mirrors, normal float glass is "silvered." A reflective layer is applied to the back of the glass.
Self-cleaning glass: This glass has a special coating on its exterior surface that makes sunlight break down dirt. Rainwater washes any debris away.
Reduced visibility glass:

Privacy glass: Allows light in but distorts the view through the glass. Commonly used in bathroom windows and front doors.

Etched glass : Also known as "frosted" glass, this is similar to privacy glass, but does not distort outlines. Patterns can be etched, instead of the whole surface.