Keyless Locks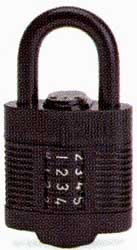 Above: COMBINATION PADLOCK
The disadvantage of any key-operated system is that the key can be lost. Combination locks are an alternative. They open when you enter the right number. With a combination padlock, you can change the combination number to one you will remember.
Securing Out-Buildings
Garages and sheds are particularly vulnerable to burglary and should always be well secured; not only do they contain valuable items, but some items can be used by burglars to gain access to the main house. Ladders are the most obvious aid, but any number of garden tools can be used to force entry. Most of the systems shown on the left are ideal for use in garages and sheds. Looks aren't important with these items. Choose those that achieve the greatest level of security.
Installing a Hasp Lock
Padlock security is commonly used on outbuildings because the doors often do not have the thickness to accommodate cylinder locks or mortise locks. Where door design does allow, padlocks are often used as a second line of defense. The best way of using a padlock is by hanging it through a hasp mechanism. When installing the latter, the plate of the hasp must be installed so that it hides the screws when locked. When choosing a padlock, be sure that it's suitable for outdoor use; "all-weather use" is a common manufacturer's specification. In the sequence below, a combination padlock is used. The main alternative to a hasp lock is a pad bolt with a padlock.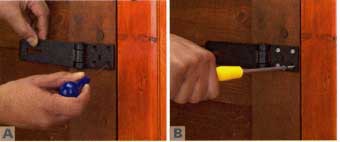 A. Mark the screw holes for the hasp. Make pilot holes for the screws.
B. Screw the hasp to the door.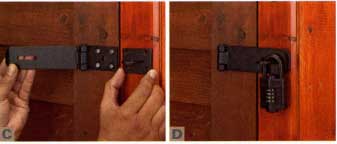 C. Mark the screw holes for the staple. Make pilot holes for the screws, then screw the staple to the door.
D. Secure the hasp lock with a padlock.