Add To Door Security
Keeping your entry door secure involves having a strong metal or solid wood door and using the right locks. Also, you need to make sure your door hangs properly and fits well in the frame. If your door isn't installed correctly, it might not matter what types of locks you choose for the door. Deadbolts and door locks are the most common methods to secure entry doors. There are also electronic door security options available.
Items such as door limiters, security chains, and surface- mounted door bolts are straightforward to install since they are simply positioned on the appropriate place on the door or frame and screwed into position. Items such as hinge bolts, deadbolts, and peep holes require a little more thought in positioning and installation. This is because slightly more involved woodworking techniques are required to ensure that they are installed securely and correctly.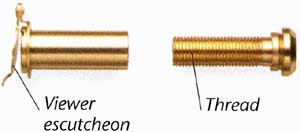 Above: Peep hole: Allows you to check identity of a visitor before unlocking any part of the door. Versions with a viewer escutcheon provide even greater security. Viewer escutcheon; Thread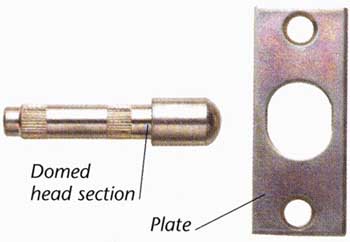 Above: Hinge bolt: Adds greater security to the hinging edge of a door so that it can't be forced open and /or off its hinges. Normally at least two are installed. Domed head section; Plate


Deadbolt: The most common type of door locking system in the U.S. are deadbolts. They are installed as standard on almost all new homes' entry doors. They provide an extra level of security for entry doors. Door bolt key; Key enters here; Plate attached to frame


Above: Decorative door bolt: A design of bolt that provides security and decorative appeal. Some designs are notched into the face or edge of the door. Bolt knob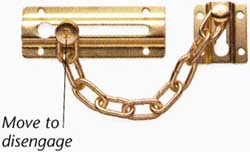 Above: Security chain: Allows a door to be opened slightly to check identity before the chain is disengaged, allowing the door to open fully. A door limiter is similar to a door chain and offers a different design option. Move to disengage
Attaching a Hinge Bolt
Hinge bolts should be installed in pairs as a minimum requirement, one below the upper door hinge and one above the lower door hinge. For extra security a third and even a fourth bolt may be used.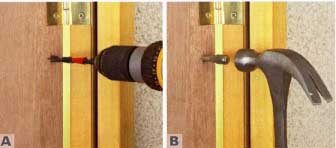 A. Drill a hole into the door edge; its dimensions should be specified by the manufacturer.
B. Hammer in the ribbed section of the bolt into this hole, leaving the smooth domed section protruding from the door edge.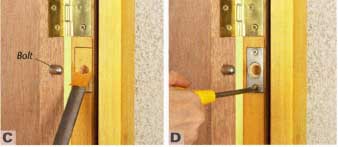 C. Gently close the door to mark the frame. Position the plate, draw a guide line around it, and chisel out to a depth equal to the plate. Drill a central hole to house the bolt.
D. Screw the hinge bolt plate in place, and check that the door opens and closes smoothly. Use the same technique to secure more bolts as required.