Door Stops
In addition to the door stop on the door frame, other door stops can be installed at the bottom of the door to limit the movement of the door or keep the door open.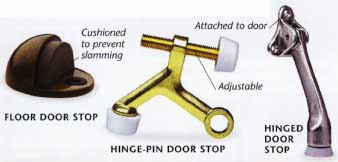 Floor Door Stop: Cushioned to prevent slamming; Hinge-Pin Door Stop; Hinged Door Stop
Hinges
Butt hinges are the most common form of hinge. Good-quality hinges come in brass and stainless steel. Some have extra features such as washers and ball bearings. Oil hinges once they have been installed.


Standard butt: Has three or four holes on each leaf, and a fixed pin in the hinge barrel. Rising butt: Lifts the door upward as it's opened, to allow for a sloping floor. Parliament: Extended leaf allows a door to open fully, where the frame might otherwise prevent it.


Doorset: Specific hinge for a doorset. Strap/Tee: Used on a ledge-and-brace door, or a door needing extra support.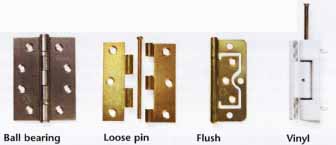 Ball bearing: Installed like a butt hinge. Ball bearings give smooth action. Loose pin: The pin allows you to detach the door without removing the hinge. Flush: Surface-mounted so no need to cut into the door edge to install it. Vinyl: Specific hinge for a vinyl door.
Catches
Catches are either screwed directly to the door and door lining, or they may need recessing—as is the case with ball catches, for example. Catches are commonly used on closets.


Magnetic: Often used on glass doors. Made of high- impact plastic. Ball: Used on closets. The ball pushes into the strike plate. Roller: A quiet alternative to the clicking sound of a magnetic catch.
Tools and Materials Needed
Basic Tool Kit and for...