---
---
Our Ultimate Guide to Cleaning shows you now to do the job right— and do it yourself—with the latest techniques and materials, step-by-step directions, safety advice, and hundreds of color illustrations (like below).

(below: From Removing Grime from Masonry: Burning plastic or gum off concrete.)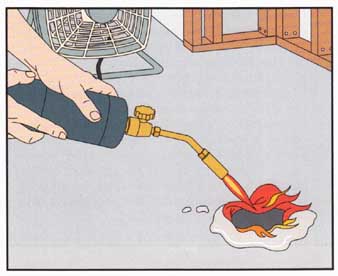 Learn the methods the professionals use so you can...
Scrub down siding
Brighten walls and ceilings
Lift stains from fabric
Remove dirt from household appliances
Rejuvenate rugs and carpets
Shampoo upholstery
Pest-proof your home
Make windows sparkle
Revive wood finishes
Keep swimming pools clean and clear
… and more...
Based on guide "Cleaning" from TIME-LIFE BOOKS -- HOME REPAIR AND IMPROVEMENT series.
Article Index Outline :
1. A CLEANER AND METHOD FOR EVERY OCCASION
Cleaning Glass
Shining Up Porcelain and Tile
Brightening Walls and Ceilings
2. CARING FOR TEXTILES
A Methodical Approach to Removing Spots
Rejuvenating Rugs and Carpets
Lifting Soil from Upholstery
3. SPECIAL CLEANING PROBLEMS
Taking Care of Household Appliances
Attending to Air Filters
Keeping Swimming Pools
Clean and Clear
Dealing with the Aftermath of a Flood
4. CONTROLLING HOUSEHOLD PESTS
Pest-proofing a House
Taking Offensive Action
A Guide to Common Pests
5. CHARTS, TABLES, etc.
Cleaning Hardwood Floors
Restoring Metal Surfaces
Curing for Fabrics
Cures for Stained Textiles
Treating Swimming-Pool Water
Choosing Pesticides