---
---
Article Index
0: Introduction
2: Living Room
3: Dining Room
4: Kitchen
5: Laundry Area
6: Bathroom
7: Linen Closet
8: Bedroom
9: Children's Rooms
10: Spare Room
11: Home Office
12: Attic, Basement, and Garage
13: The Plan
14: Resource Guide
How to Use and Optimize Closets & Other Storage Space
Introduction
Questions: How does one "better" use or "optimize" what one has been using every day and for years? Don't we naturally find best ways of neatly packing stuff in?
Answer: Yes ... using storage space is much like playing (and improving-with-time) the game Tetris. But we can still learn from the game designers.

Closet and other storage space in the home is always in demand. There never seems to be enough of this vital space, and yet, as a professional organizer, I know that if you take a fresh look at the situation, there is usually more potential space than you realize. This book will take you on a walking tour of every room in your house, to help you assess your current closet and storage capacity. We'll ad dress all the storage problems encountered in the average home, and consider various solutions.
For example, maximizing your closet and storage space may mean sifting through your belongings and weeding out what is no longer appropriate to your lifestyle. It may also mean rethinking and reorganizing how and where you store things. Or it could mean installing some space-saving systems and cabinetry to increase the storage space you already have. You may even want to remodel and/or re-decorate, to give yourself that much needed extra closet or storage space and give the room an updated look at the same time.
This guide is jam-packed with practical ideas for expanding your available storage space, with dozens of info-graphics of space-saving systems and products that are available for you to use creatively in your design for storage success. Also, we consulted dedicated experts on how to deal effectively with specific storage problems. These special "Super Tips -- Straight from the Pros" will help you with everything from how to find the right storage products and systems to how to organize the things you are now storing. Finally, after you've considered all the options and you're ready to roll up your sleeves and expand your available space, the last section provides an 8-step plan for storage success. Used in conjunction with the ideas found throughout the guide, this plan will help you reach your goal to increase or maximize your closet and storage space. The Resource section aims to make shopping for products and services easier.
A realistic approach, teamed with some creative ideas and organization, can often yield exciting results. With this guide as your planning guide to more closet and storage space, we know you will be successful!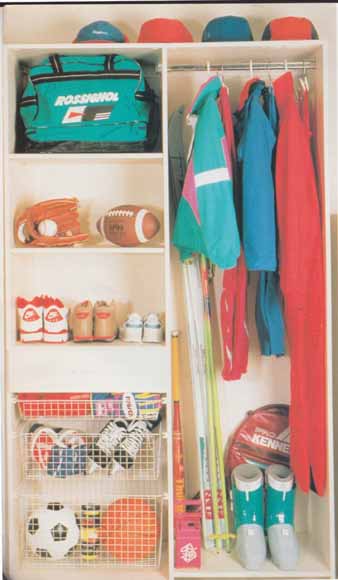 A hall closet can be turned into a 'sports center' to provide effective storage for apartment dwellers who have no garage or basement to store their sporting equipment.