---
---
Before you start, you need to decide where you will position your partition wall. The technique shown here uses guide lines to mark where the centers of studs will sit. If you want them to mark the edges, draw them to one side of the joists or studs into which you will drive nails or screws. If your stud wall is to have a doorway, lay a full sole plate as shown, and later cut away a section of it to make the doorway (see step 5A). You may need somebody to hold the ceiling plate in position while you fasten it in place.
TOOLS AND MATERIALS NEEDED: SEE BASIC TOOLKIT AND THIS SECTION
1. Layout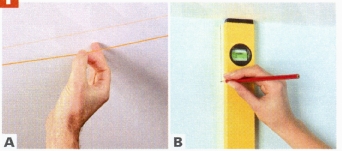 A. Snap a chalk line across the ceiling to mark either the center or one edge of the ceiling plate's position. Remove the chalk line. B. At one end of the ceiling line, use a long level and a pencil to draw a line on the wall, all the way up from the floor. Repeat on the other wall.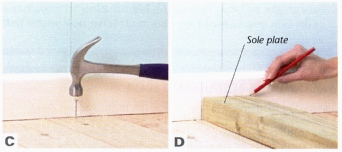 C. Drive a nail into the floor at the base of each wall guide line. Attach and snap a chalk line across the floor to draw a guide line. D. Where the wall guide lines meet the floor, mark a section of baseboard on each wall equal to the width of the sole plate.
2. Installing the Floor Plate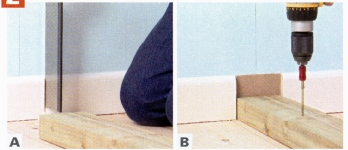 A. Cut away the marked sections of baseboard on both walls, taking care to saw accurate vertical lines. Pry the waste sections away from the wall with a pry bar if they stick. B. Cut the sole plate to fit across the room where the baseboard has been removed. Position it along its guide line, and secure it to the floor.
AN ALTERNATIVE TO CUTTING BASEBOARD

A. Mark a notch (area to be cut away) on the wall plate so that it will sit over the baseboard and lie flush on the wall. B. With the wall-facing side upward, saw along the guide line to the depth marked by the pencil lines on the edges.

C. Use a bevel-edged chisel and a hammer to remove chunks of wood, working down to the depth required. D. Position the plate against the wall and secure as normal.