Safety Guards and Gadgets
The majority of safety guards are quick and easy to install -- most can be adapted to fit a particular design. For example, toilet lid locks will generally fit the majority of toilets, but it's advisable to check dimensions first. It is very much an individual decision in terms of what are essential and what are nonessential items. However, there are some items, such as stair gates and fire guards, that the majority of parents consider a necessity.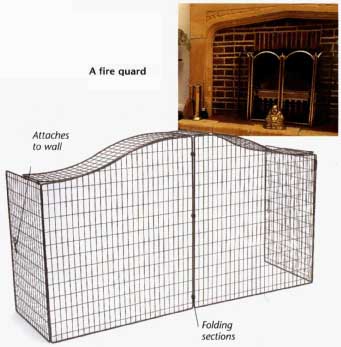 A fire guard: This is placed in front of an open fire to keep children away. It may be necessary to screw in wall anchors to hold it in position. Components: Attaches to wall; Folding sections.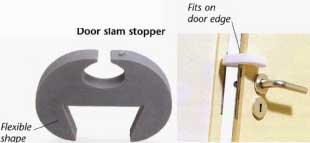 Door slam stopper: Prevents a door from slamming, reducing the risk of fingers being caught in the door. Flexible shape; Fits on edge.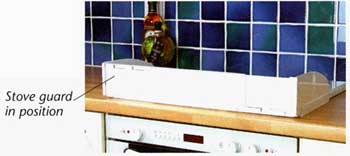 Oven and stove guard: Helps prevent a child from getting too near to hot oven surfaces. As shown: Stove guard in position.

A corner protector: This is clipped on to a table corner to make it less sharp. It can also be used on other sharp corners around the home. As shown: Normally self-adhesive.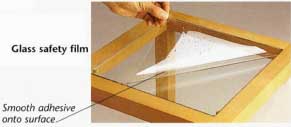 Glass safety film: Applied over glass, it prevents shards from flying through the air if the window breaks or shatters. Smooth adhesive onto surface.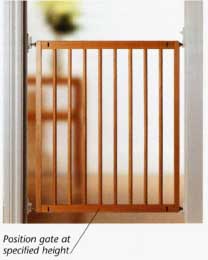 Stair gate: This is attached to both the top and the bottom of the stairs, to prevent a young child from climbing or descending unaccompanied. The gate may also be put across the entrance to a room to control access to a particular area in the home. Before buying a stair gate, check the dimensions of the stairway and /or entrance to be sure you get the correct design and size. Some designs are tension-mounted to avoid the need for screws to hold the gate in place. As shown: Position gate at specified height.