Laying sheet vinyl or woven-backed carpet requires quite a high level of skill. However, coverings such as tiles and clip-together wooden flooring are more straightforward to lay. In some cases you may need to lay a sub-floor before the flooring. Be aware that clip-together flooring or sanded boards may be too noisy for an apartment or condo.
Preparing to Lay Carpet or Sheet Vinyl
Although carpet and vinyl are vastly different materials, they are laid in a similar way. Try to avoid joining lengths; if it's unavoidable, locate seams below any furniture or other fittings. For more on carpet and vinyl tiles.
Types of Flooring
Rolls usually come in set widths -- 15 ft. (4.5 m) for carpet is the most common. This may dictate which way to run a design across a room.
Carpet: This may have fabric-woven or fabric-laminated backing. The vast differences in quality and price are due to a carpet's make-up. It may be 100 percent wool, a wool/acrylic mix, 100 percent acrylic, or another synthetic fiber. Texture and pile include smooth velvet, twist, loop, and shag pile. Most brands have a grading system for suitable use, such as light domestic (e.g., in a bedroom) or heavy domestic (e.g., hall and stairs). There are also natural-fiber floor coverings, e.g., jute or coir.
Sheet vinyl: Since vinyl is hardwearing and easily cleaned, it's often used in bathrooms and kitchens. To increase its waterproof qualities, you may choose to run a bead of silicone around the edge. This also disguises rough edges.
Foam: Foam acts as a shock absorber between the carpet and floor, provides greater comfort underfoot, protects the carpet, and reduces carpet wear.
Other types of sheet flooring: Rubber and linoleum are durable and easily cleaned, but are more difficult to lay.
Rolled Flooring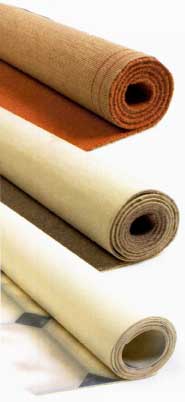 Primary-backed carpet (left top): Laid with an underlayment. Needs to be stretched as it's fitted. It can be laid on nearly any type of subfloor, or directly on to floorboards if they are in good condition. Tackless stripping is used around the perimeter to hold the carpet in place.
Foam-backed carpet (left middle): This does not require stretching or an underlayment. It is normally stuck down with carpet tape. Some manufacturers suggest using an underlayment, but it can then be difficult to stick the carpet and underlayment to the floor surface.
Sheet vinyl (left top): This is usually laid dry, on a subfloor (suitable floors include plywood, self- leveled, and hardboard). Vinyl, especially if it's lightweight, can be stuck down.