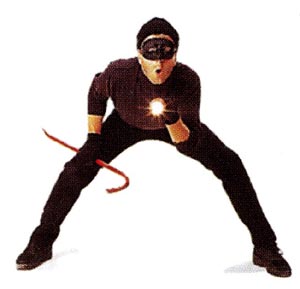 Basic home security consists of two things: keeping your home from looking like an easy target, and making a forced-entry troublesome for those trying to break in. Here are a few tips:
10 Common Home Security Mistakes
1. Unlocked windows and doors are the means of entrance in almost half of all burglaries. And most occur between 8 A.M. and 5 P.M. Lock up the house, even if you'll be out only a short period of time.
2. Weak strike plates allow your door to be opened with a few kicks. Install strike plates with screws long enough to penetrate into the wall framing.
3. Door chains can be yanked out with one good shove or kick.
4 Unchanged garage door openers allow crooks with a handful of common transmitters to click away until they find a garage door that responds.
5. Complete darkness is an invitation to break-ins. Install a motion-detector light.
6. Wimpy windows can often be jimmied open. Use sturdy locks.
7. Vulnerable sliding glass doors can be lifted out of their tracks. Use the precautions shown at right for making them more secure.
8. Hidden windows and doors are another invitation for crime. Keep bushes and trees trimmed back for increased safety.
9. Flimsy exterior doors are highly vulnerable. Replace hollow-core doors with those of steel, fiberglass or solid wood.
10. Burglar bait includes leaving empty boxes outside that advertise big purchases of computers, TVs and stereos. Ladders and other break-in tools left outside may also attract thieves.