Smoke Detectors
The majority of smoke alarms that fail to sound in a fire either have dead batteries or are missing them entirely. Perform the basic maintenance shown here and replace any smoke detector more than 10 years old. When you install smoke detectors, follow these guidelines:
• Place smoke detectors at least 12 in. (30 cm) away from corners and on surfaces that have fairly stable temperatures, like high on an inside wall or against the center of an insulated ceiling.
• Don't place smoke alarms in kitchens, bathrooms, furnace rooms or workshops where fumes, dust and smoke can trigger false alarms and contaminate the alarm's detectors.
• To prevent air movement from delaying the alarm, position alarms away from windows and at least 3 ft. (1 m) away from furnace ducts.
• Position alarms within 15 ft. (5 m) of bedrooms (some codes require one in each bedroom) so they can be heard through closed doors.
• Don't place alarms on tall walls, over stairways or other areas where it's inconvenient or dangerous to test them.

Above: Replace old AC-powered detectors. Turn off power at main circuit panel, disconnect old detector, then install new mounting plate and detector. Replace interconnected alarms at the same time with compatible units from the same manufacturer. Turn on power and test. Tip: Jot the installation date on the mounting plate so you'll know when to replace the detector.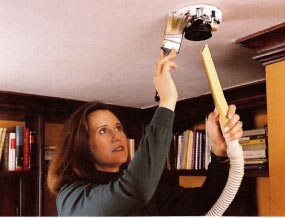 Above: Clean detectors and test batteries. Vacuum the interior of detectors once a year, test detectors monthly with test button and install new batteries every six months.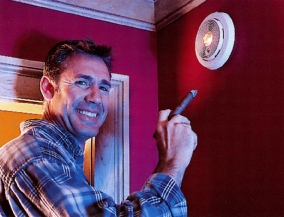 Above: Smoke test. Test your smoke alarms once a year by blowing out a match and letting the smoke roll over the alarm—or use that cigar you've been saving. Incense works, too.