---
---
A heat pump is a refrigerant system, much like an air conditioner or refrigerator, that can both heat and cool your home. Most heat pumps are split systems, with an outdoor coil, an indoor coil and a compressor. During the winter, the system extracts low-grade heat from outdoors and transfers it indoors. During the summer, the heat pump is reversed, absorbing unwanted heat from indoors and sending it outdoors. A thermostat, ducts and blowers control and distribute the warm and cool air.
Although it's hard to imagine squeezing any useful heat energy from 30°F (-1°C) wintertime air, a refrigerant at -20°F (-2 9°C) will be warmed when circulated through the outdoor coil in air that's 50°F (2 7°C) warmer. During this cycle, the compressor and fans consume energy to deliver the heat. The ratio of the amount of heat delivered to the amount of energy consumed is called the coefficient of performance (COP). Depending on the outdoor temperature, the COP of a good heat pump in the heating season ranges from 1.0 to 3.0—meaning 1 to 3 BTUs of heat delivered per BTU of electricity consumed. Most heat pumps are slightly more efficient during the cooling season.
Other rating systems used for heat pumps are the heating season performance factor (HSPF) and the season energy efficiency ratio (SEER). These ratings use the watt as a unit of measure and are simply 3.4 times the size of the COP because there are 3.4 BTUs per watt.
As outdoor temperatures fall, a heat pump's heating capacity declines, although high-quality units can still extract heat with outdoor temperatures as low as 9°F (-13°C). To compensate, supplementary electric heating elements switch on at the crossover point, which is the point at which an air-source heat pump does not have enough heating capacity to satisfy a home's needs.
Have a heat pump serviced annually by a qualified contractor. In addition, routinely vacuum the indoor coil, change the blower filter and wash the outdoor coil with a hose.
Diagram of Heating Cycle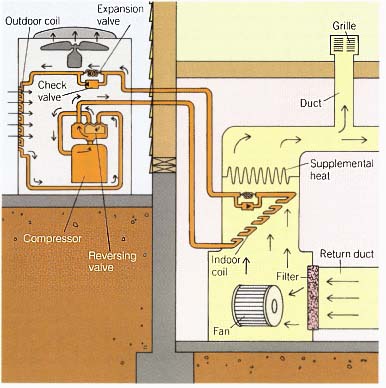 In heating cycle, refrigerant passes through outdoor coil as gas, drawing heat from air. Gas moves to compression where high pressure raises its temperature. Compressed gas moves to indoor coil, where it releases heat and condenses into liquid. Expansion valve allows liquid to move from high pressure to low, lowers temperature and vaporizing again. For cooling, a valve reverses the system.