---
---
A reliable as most of them are, the systems commonly used to provide heat to our homes all cost money to operate and come from outside sources. Whether they rely on electricity, natural gas, propane or heating oil, the cost and sometimes availability of their fuel can vary widely with the regional, economic, even political forces that are out of a homeowner's control. Solar energy offers a "free," inexhaustible source of heat energy, but it doesn't provide the same consistency and control that conventional systems provide. Although it's possible to harvest solar energy for storage in battery systems or link a solar collector- converter to a commercial power grid, the simplest gains can be had from passive solar systems, which convert the sun's energy directly into usable interior heat. Even on cold winter days, the sun's energy can be captured to provide heat for a home.
An effective passive solar-heating system relies on two primary conditions, aside from the basic requirement of daylight. First is a clear surface, like glass, that allows the passage of solar energy into the interior space. Second is a storage feature that can absorb that energy so the space doesn't overheat, then release it later when the sun goes down and temperatures drop. A material with this ability to store and release heat energy is said to have thermal mass. Water is a common example, as is almost any masonry material, especially concrete or brick. Other features that help make a sun- warmed space more livable allow you to control the rate of heat gain and release; roof overhangs and venting windows are two common examples.
In North America, passive solar features are normally installed on the south side of a structure. This prevents overheating during the summer months when overhangs block out the high summer sun and captures more energy during winter months, when the earth's orbit causes the sun to appear lower in the sky. Solar features are sometimes costly to retrofit onto an existing home, and the rate of financial return is sometimes slow, but energy savings arid a light-filled interior environment are two good reasons to welcome solar energy where possible.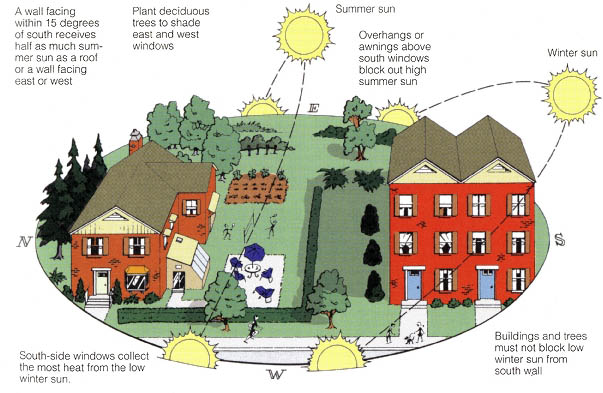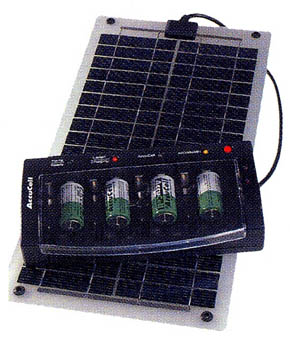 Sun-powered Heat, Electricity and Light
Despite decades of interest and product development, solar technology is still largely an emerging industry. Some applications show increasing promise; photovoltaic panels, like the one shown for charging batteries, now feature a flexible thin-film technology and are more efficient at converting sunlight into electricity. Many solar technologies remain supplemental rather than primary energy systems, especially for controlling home climates. Rooftop water-heating systems and south-facing sun spaces still represent the most practical applications of passive solar gain. As these simple technologies improve, they will likely contribute a higher percentage of a home's energy needs. Expect increased performance and decreased costs eventually, as well as a wider range of products and applications.
Tracking down solar products can start with familiar sources, such as your phone book or business directory under "Solar Products and Services" or through Internet searches. There already exists a solar-energy trade show, called Solar Power, as well as a trade group, the Solar Energy Industries Association (SEIA), that can direct consumers to solar-powered products for residential use.
Buy solar products for your home.