Zoned Heating
To save energy, a hot-water system can be divided into zones. This lets you make occupied rooms warm while keeping others cooler. Typically, a two-zone system combines living areas, kitchen and bathrooms in one zone and bedrooms in another.
Zones are created by running branch lines off a main supply pipe to each desired zone and adding thermostatic zone valves in each branch to turn the hot- water supply on or off. One boiler and one circulator (or two of each in large houses) are used with multiple zone valves. Alternatively, a separate circulator can be used for each zone, eliminating zone valves.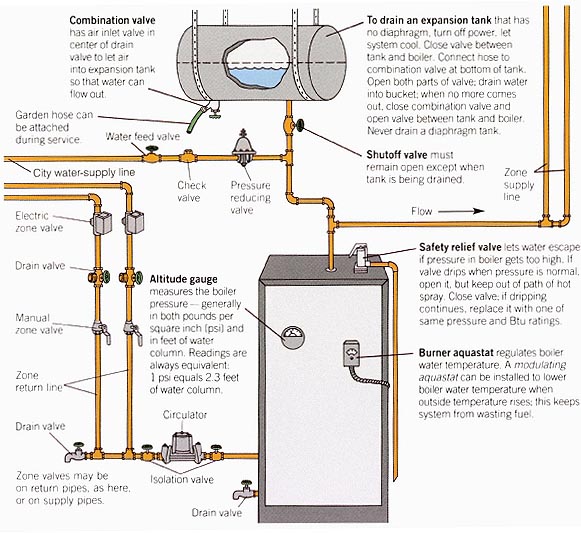 Combination valve has air inlet valve in center of drain valve to let air into expansion tank so that water can flow out.
To drain an expansion tank that has no diaphragm, turn off power, let system cool. Close valve between tank and boiler. Connect hose to combination valve at bottom of tank. Open both parts of valve; drain water into bucket; when no more comes out, close combination valve and open valve between tank and boiler. Never drain a diaphragm tank.
Shutoff valve must remain open except when tank is being drained.
Garden hose can be attached during service.
Safety relief valve lets water escape if pressure in boiler gets too high. If valve drips when pressure is normal. open it. but keep out of path of hot spray. Close valve; if dripping continues, replace it with one of same pressure and Btu ratings.
Burner aquastat regulates boiler water temperature. A modulating aquastat can be installed to lower boiler water temperature when outside temperature rises; this keeps system from wasting fuel.
Altitude gauge measures the boiler pressure generally in both pounds per square inch (psi) and in feet of water column. Readings are always equivalent: 1 psi equals 2.3 feet of water column.
Zone valves may be on return pipes, as here. or on supply pipes.
Electric zone valve, Drain valve, Manual zone valve, Zone return line, Check valve, Pressure reducing valve, Zone supply line, Water feed valve, Garden hose can be attached during service, Circulator, Garden hose can be attached during service.