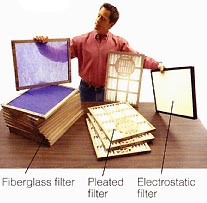 Smarter Shopping: Which Filter?
Walk down the aisles of your local home center or hardware store and you'll find furnace filters ranging in price from under $1 to $40 or more. What's the difference?
The least expensive woven fiberglass filters screen out some pollen and mold spores but mostly keep dirt and debris from damaging your blower motor.
[ Furnace Filters at homedepot.com. Shop Now! ]
Accordion-like pleated filters have a larger surface area, meaning they can capture smaller particles for longer periods of time without impeding the airflow of your furnace.
The more expensive, higher efficiency electrostatic filters can filter out and magnetically attract contaminants, including bacteria, dander, odors and smoke particles. Consider these if you have household members with allergies or asthma.
Many filters carry a minimum efficiency report ing value (MERV) rating, which basically indicates their effectiveness. The higher the M ERV rating, the higher a filter's effectiveness.
Remember: changing filters isn't only a heating-season chore. Many blower motors work at a higher speed in air-conditioning mode than in heating mode, which means you should clean or change your filters more often in the summer. A clogged filter will make both your furnace and air conditioner work harder and less efficiently.