---
---
There are so many stories we all can tell about storage gone awry, yet we'd rather spend time choosing new window treatments than reconfiguring the front hall closet. Storage just doesn't get the respect it deserves. But just consider how much better it would be to take the time spent looking for misplaced stuff and to spend it on family, friends, hobbies, travel-on getting an extra half hour with a cup of coffee instead of frantically searching for the left shoe of the only pair that matches the suit you need for an important presentation , which you're now running late for.
Well-designed storage is completely subjective-what works well with one person's lifestyle could be disastrous for another.
There's certainly no one way to achieve storage Zen, but there are some basic approaches and guidelines that will help demystify the process of creating good storage.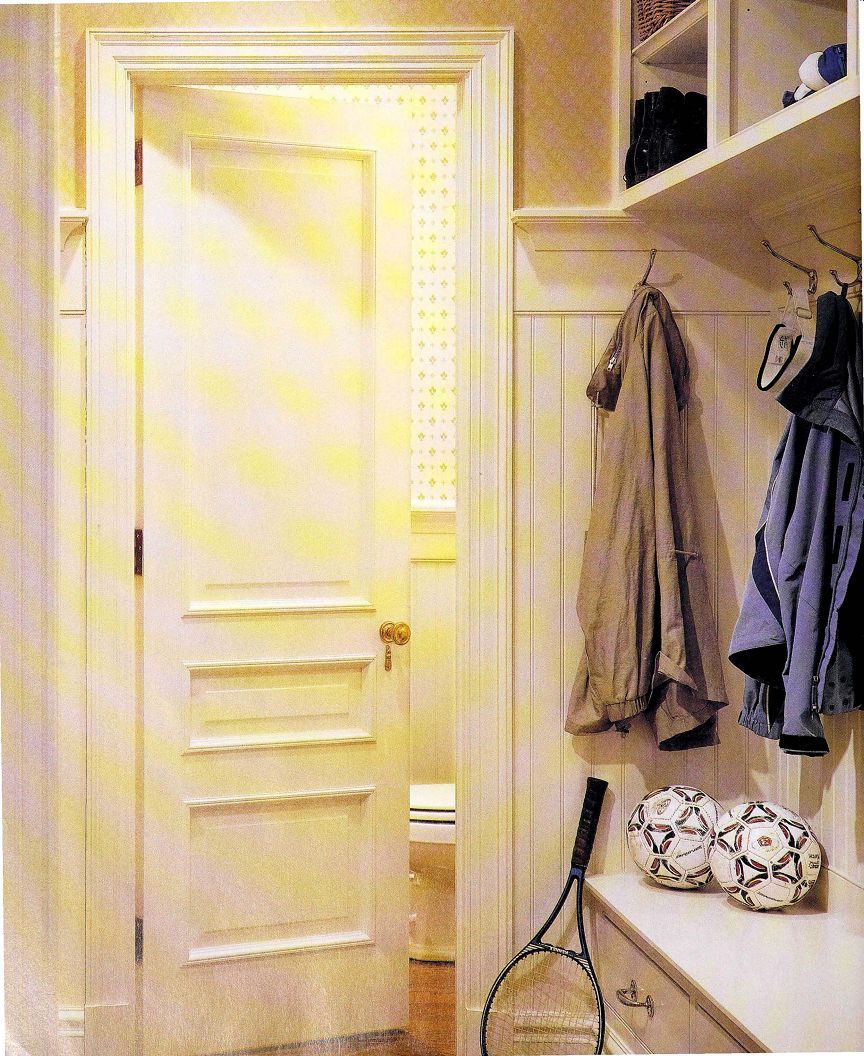 ---------- It there's a space for everything, there's a likelihood that everything will be in its place when you need it. When a sporting season ends, make sure that long-term storage can handle all the appropriate gear until the season rolls around again. This handsome mudroom keeps clothing and gear in one place.
Storage Design 101
The first trick to efficient storage is to take a close look at how you store your things, and figure out what's wrong with your system and what works-and why. This may seem like a monumental bore at first, if not an impossibility. The very word storage is dull (it rhymes with porridge and forage--there's just no glamour in that), but storage is essential to living comfortably, and if it's designed well, storage can be a source of pleasure, too. Consider how pleasing it is to see and use a beautiful pot rack laden with copper saucepans or an armoire filled with soft bath towels.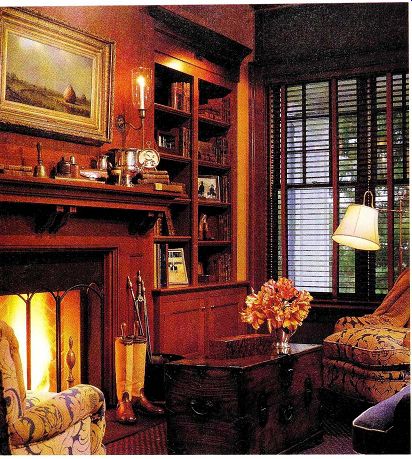 -------------- Storing books, photos, and papers is hardly a dull task in this handsome study. A blanket chest-cum-coffee table provides long-term storage for professional journals.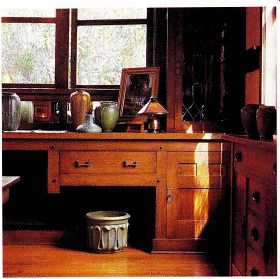 ------------- This beautiful Craftsman-style cabinetry, which is both built-in and freestanding, contains stationery and other odds and ends, and displays period vases and glass work.
To get to the core of what you can fix about your own storage, it helps to start thinking like a product designer. Brainstorm about the qualities of the items you want to store (this is a great project for kids working on "invention convention" assignments) . Can the item drape or be hung from something without losing its shape) (Think scarves or a dog leash.) Or is it rounded and prone to rolling when set down so that it needs a basket. (Onions and marbles come to mind.) Can the item stand up and fit into a slot (envelopes and trays) or does it need to be stored flat (printer paper)" ) A trip to the mall is another good way to start thinking about storage. Visit well organized stores, and pay attention to how they display and store items. Chain stores often have some of the most ingenious storage systems, because they pay product designers a lot of money to come up with efficient and attractive storage for all of their locations. Of course, home storage differs in scale from the commercial, and translating commercial storage ideas into the home variety can be tricky.
Home-storage design is a booming business these days, but despite the vast number of products on the market, not all are created equal. You'd think that all storage products would be designed to be useful, but it isn't always so. When you find a product or system that appeals to you, visualize yourself actually using it; if you can picture the easy retrieval and return of items, then it's probably worth a shot. But if you foresee a lot of rooting around to find what you're looking for or knocking over other items in the process of getting what you want, look for a better solution.
Store Like Items Together—Usually
Take a look, too, at what items you store together. Generally speaking, it's easier to remember where everything is if you store like items together. However, this rule only makes sense if it suits the way you live.
Take spice storage , for instance. If you're a fan of red pepper and use it nightly at the stovetop, why store it in the pantry among a zillion other jars and bottles. If you blow dry your hair in the dressing room, it makes no sense to store the blow-dryer in the bathroom with all the other grooming products. Keep in mind that this is a strictly subjective notion, as one person's taxonomy is another's nonsense. You may prefer all your ducks in a row, but your daughter may like her stuffed animals placed in a pattern that fits her sensibility, not your sense of order.
It's also possible that you'll find two equally compelling places to store an item.
Instead of constantly wondering which place you have put it, why not store two of them t Have salt and pepper by the stove top and by the sandwich-making countertop. If kids brush teeth downstairs in the morning and upstairs at night, supply two sets, with the downstairs set easy to whisk away when company calls.
If duplicating storage isn't in the cards, make mobile storage. Store items that are used in multiple places in a caddy, and put the caddy in a central location. For larger items, do the same with a rolling cart.
For instance , if computer accessories are used with a laptop at the kitchen table and with a stationary computer in the study, store them on a rolling cart and position it in neutral territory, demanding that its contents be returned daily.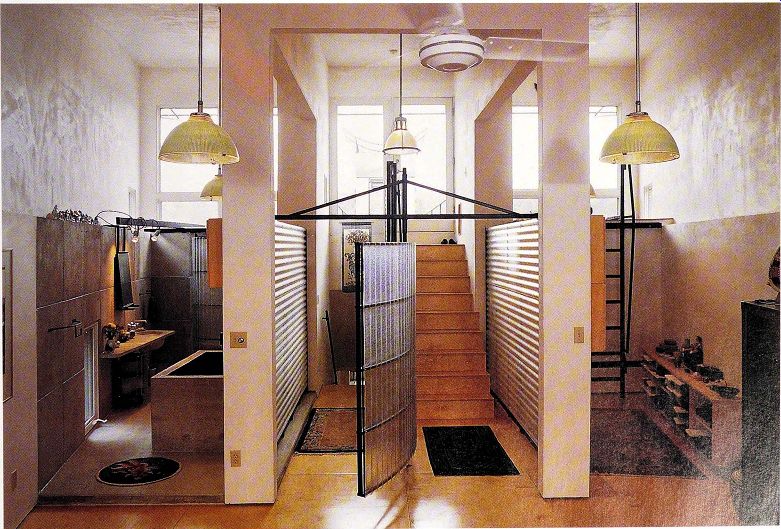 ----------- This view from the master bedroom shows a passage to the main floor flanked by a bathroom to the left and a dressing room to the right. Although the space reflects a minimalist approach, storage space is not sacrificed. Low, open shelves hold shoes, while wall-hung cabinets with open cubbies provide storage in both the bathroom and dressing space.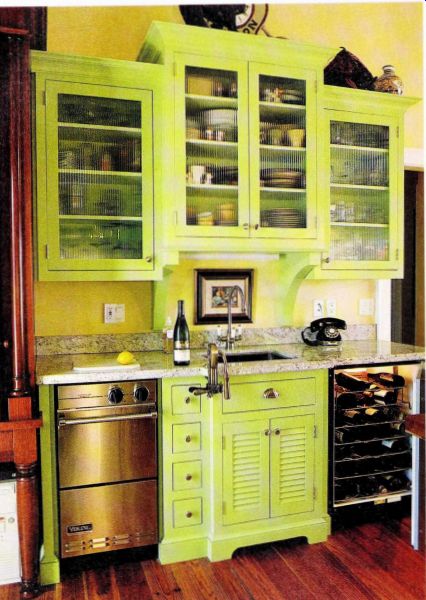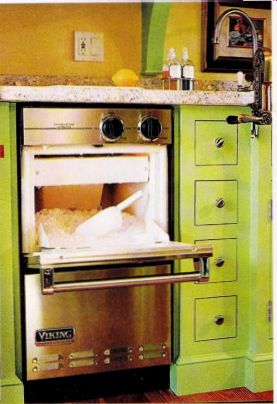 ------ One side of a large kitchen for two serious cooks contains a complete wet bar with an under-cabinet wine cooler, an ice machine, and cabinetry with glassware and dinnerware. Spices, condiments, and small tools used for making drinks (paring knives and zesters, for example) are kept in the tiny drawers, while spices for cooking are kept in the kitchen pantry and a duplicate set of small tools are kept in drawers near the cooktop .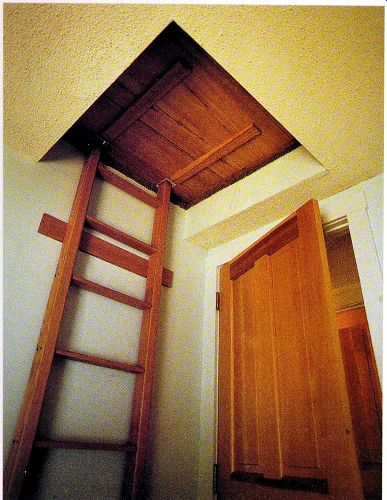 ----------- This ladder is a permanent fixture, providing easy access to the hatch, which leads to a brightly lit but low-ceilinged space perfect for out-of-season storage.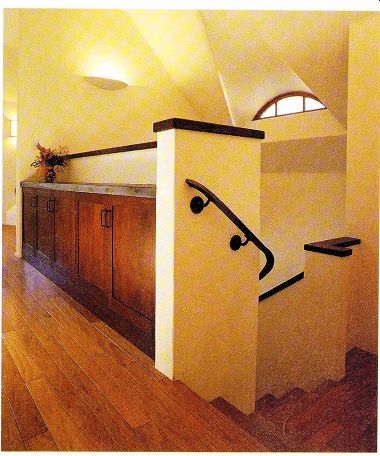 ------------ This hallway in a new Normandy-style house does double duty as a passageway and a space for a stretch of beautiful mahogany cabinets, which provide ideal storage for seasonal items, extra linens, or even paperwork.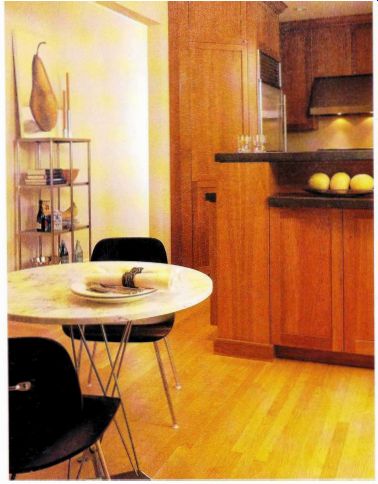 --------- This kitchen cabinetry has a sturdy, solid character, with closed cabinetry providing storage for a serious collection of cookware. In contrast, a light, slight table and open-wire shelves make a bright, mobile dining space.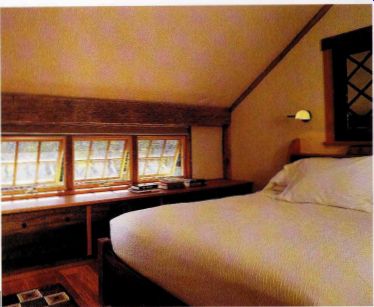 -------- This stretch of cypress drawers, which runs the length of a Martha's Vineyard bedroom, conceals a lot of clothing while sitting low to allow an ocean view through awning windows.
Consider Active versus Dead Storage
Well-placed storage makes it easier to handle daily, weekly, and periodical tasks.
Before you settle on how to store your possessions, consider how often you use them.
Objects that are used every day should be stored close by, perhaps in sight, while objects used weekly can be more remote but still be easy to reach. Everyday objects run the gamut from the small-dental floss and car keys--to larger items, such as kids' backpacks and bath towels. Items like this are considered "active" storage because they are constantly being used and put back or replenished . Active storage items must be easy to find and use, or efficiency is lost. A prime example is a set of car keys, which must be given an accessible and permanent home to keep mornings running smoothly.
But the items we use periodically need functional, accessible storage, too. Seasonal items-sports gear, clothing, decorations, and the like-need a consistent and designated place of rest. Call this "dead" storage, if you like, but its more like "dormant" storage. The weeks before Christmas can seem like a year to a child but mere minutes to an adult who has to rummage through the closet looking for the box marked (or worse , not marked) "Christmas." Holiday decorations need a box (or more) and a dedicated spot in the basement, attic, spare closet, or any other convenient but out-off-the-way place.
Actual dead storage, which stays put for a very long time-a wedding dress, drawings and schoolwork from early childhood, vinyl records you can't bear to part with-can be stored quite far out of sight, but to keep them from being permanently out of mind, label storage containers well, and make a list of items and storage locations. When allocating long-term storage, also keep in mind safe storage environments. For instance, fragile items, such as keepsake papers and photos, should be stored in archival-quality boxes and albums and in a stable environment protected from extremes of heat and humidity.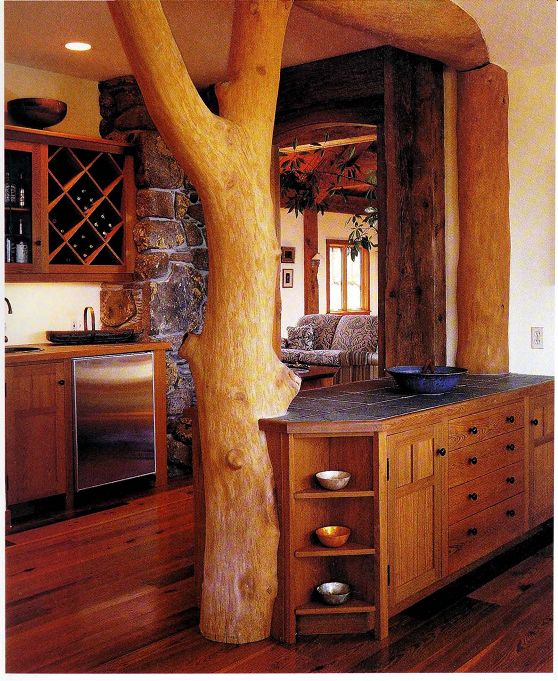 ------------ Built-in cabinetry can be fitted with a mind-boggling variety of storage devices, making it easy to select the right storage solution. The entertainment portion of this Martha's Vineyard kitchen contains an under-counter wine cooler, diagonal cubbies for wine bottles, and an array of drawers, open shelves, glazed doors, and solid doors. All cabinetry is worked from reclaimed cypress. Oak trees that were cleared to make room for the house have been shaved, sanded, and joined to provide structural support.
Consider Concealed vs. Open Storage
Another critical design task is to determine how much of your stuff you want to see every day. In a private space, such as a master bathroom, visible storage might include toothpaste, shaving gear, makeup, and other toiletries. In a more public bathroom downstairs, you might want to keep such items out of sight. In the kitchen, personal preference frequently dictates storage design; some cooks prefer to keep cooking tools within easy reach on the countertop, while others like a minimalist look and have a drawer for everything.
Regardless of the room it's in, traditional cabinetry is often open at eye level and closed below, so that decorative objects are stored on the visible shelves--behind glass or not--and more utilitarian or less used objects are stored behind doors or in drawers below. This makes sense visually and offers the most flexible storage, but your personal style or storage needs may dictate that all cabinets are closed or open. It's your call. Just keep in mind that closed cabinets shield items from dust and dirt, so if you're not a fan of dusting, a sea of open shelving may not be the most practical approach.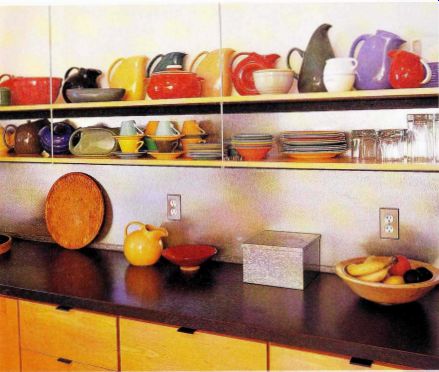 --------------- Light-as-air shelves hung from the ceiling provide two layers of storage for a collection of bright dishes.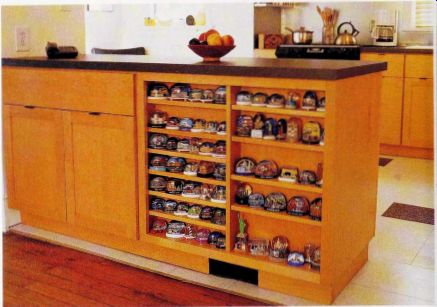 ------------- Half of this peninsula cabinetry is accessed from the kitchen side and half from the dining room. A clever design trick was to borrow a few inches from the cabinet space to make shallow shelves custom-sized for a collection of snow globes, which make a cheery display for diners.
Match Storage to Items Stored
The apparatus that provides storage--a free standing chest, a closet, a built-in hutch, or a wall-mounted rack-doesn't matter as much as the storage elements it contains. A closet can provide books, shelves, racks, and rods, but so can a built-in cabinet. It's important to take a close look at the items you're storing and consider what will make the most effective storage device .
Shelves
Shelves are one of the most versatile storage element and are suitable for most of the things we store. Depending on whether they're open or hidden behind cabinet doors, shelves can accommodate everything from sculptures to books to extra toilet paper. The great benefit of open shelves is that they're easy and relatively inexpensive to add to a room, and just one can make an impact on a room's looks while relieving storage problems.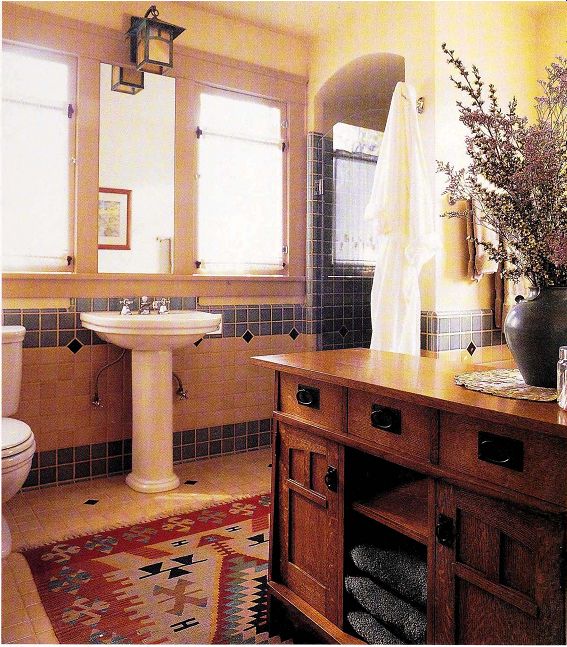 ------------ A well-placed hook in this Arts and Crafts-inspired bathroom ensures that a bathrobe or towel is always in easy reach when exiting the shower.
However, there are a few things to consider when designing shelf storage. If items roll, for instance, shelves need a lip or some type of intermediate storage system, such as a basket or tray. This may seem obvious, but how many times has your mascara rolled off a shelf or out of a medicine cabinet. Have you ever cursed at a poorly designed lazy Susan? A high lip or curved back wall will keep pans or cans from flying out.
Shelf size also matters. When designing storage for frequently used items, consider closely spaced, shallow shelves; a perfect example is the pantry where all items should be easily seen and not stacked. The same holds true in the bathroom. Toiletries that are used every day should be easy to grab and replace. Long-term shelf storage can be deeper, such as for boxes of holiday decorations, duffel bags of out-of-season sports gear, or backup packs of paper towels.
Hooks and pegs
Hooks and pegs are ideal for hanging many items throughout the house, and you can't beat them for easy retrieval and return. Casual clothes, such as sweatshirts, fleece jackets, bathrobes, and hats, are perfect candidates for hooks.
Hooks are also good for keeping dry towels at the ready near the shower or swimming pool , but they don't work for drying wet towels. Hooks are perfect for long, thin items with loops, and this covers a wide spectrum, from belts, ties, jewelry, and scarves (but only scarves that can be bunched) to dog leashes, aprons, and clipped-together mittens. Short, wide pegs attached close to the floor can make a great alternative form of shoe storage as proven in traditional Shaker closets. Think smaller hooks or pegs and you have storage solutions for any number of kitchen utensils and cookware. Think tiny hooks or clips and you have the classic method for hanging artwork and flat-backed sculpture, such as masks.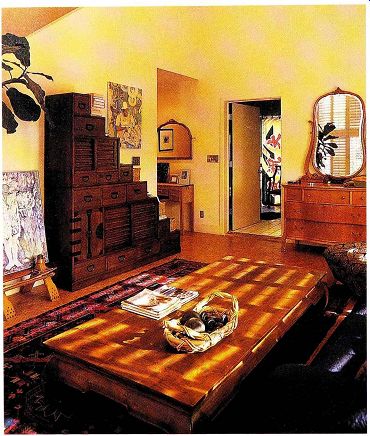 ---------- Japanese alternative to drawers, the tansu is a highly adaptable, modular system of containers that are stacked together. This tansu not only provides a beautiful focal point but also substantial long- and short-term storage.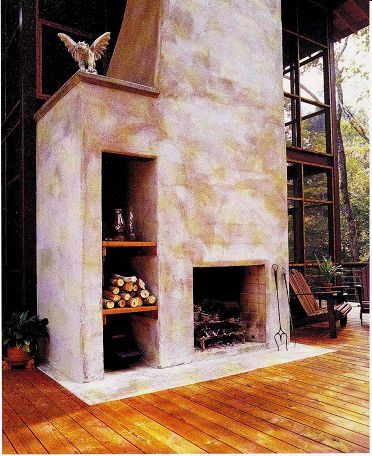 ------ This outdoor living space has an indoor quality fireplace that features an elegant storage niche outfitted with two chunky wood shelves. The mantel-like topper creates an unexpected display space for an unusual pet.
Rods
For the most part, rods are used in closets or armoires to hold hangers, but they have other uses, too. Short, slender rods positioned ladder-style are perfect for scarves and ties, while larger rods in the laundry room-either attached to the wall or in the form of a drying rack-are ideal for the temporary storage of drying clothes and can even provide permanent storage for table linens. And, of course, rods are used as towel bars in the bath and kitchen. The fatter the rod, the more quickly a towel "v ill dry; a double rod works even better.
Container. Containers can be a basket, box, trunk, or the most common household container of all: a drawer. Containers can hold things that roll (potatoes) or things that don't (sweaters), items that are Hat (CDs and DVDs), or items that are bulky (pots) . The most important thing to keep in mind when choosing a container is to match its size with the thing being contained so that there aren't too many layers to dig through. This means that a sock drawer will be reasonably shallow, as will a drawer for small kitchen tools, while a drawer for pots will be deep (and strong) , as will a drawer for a fax machine.
Although drawers are built in, most containers are meant to be mobile. A noteworthy example is the stair-step tansu storage found in traditional Japanese homes.
These modular storage systems comprise multiple boxes stacked on one another in such a way as to make a stair to an upper floor, while providing storage that can easily be relocated or even carried out in case of fire. While stair-step tansu boxes can't serve as stairs today (a no-no with building codes) , they're a great example of container storage that is not only good looking but adaptable.
Slots, niches, and cubby hole. These scraps of storage space can be found in built-in or freestanding furniture, and even in walls themselves. They are really containers turned sideways, and are suited for flat or long, thin items, such as baking trays, rolling pins, pencils, envelopes, and wrapping paper. Commonly overlooked, these little bits of space can be the perfect solution for items that just don't work anywhere else.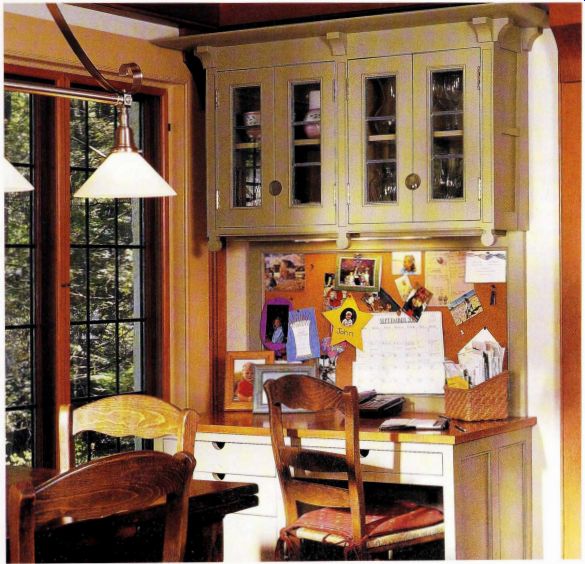 ------------ Take a couple of feet from the dining area, and you have a work space just off the kitchen. This work space allows homework to remain spread out during dinner, and it takes on the traditional role of being a spot to pay bills, make phone calls, and keep up with the family calendar.
Reconfigure/ Replace/ or Add On?
Storage can be improved by the smallest of changes or by the biggest of commitments, from the addition of a few shelves to the addition of an entire mudroom. You'll have to decide how much time, money, space, and thought you're willing to spend on storage improvements, but some is better than none, and even minute changes can have a worthwhile impact. An existing home can become more efficient simply by adding a few off-the-shelf storage gadgets.
Cabinets and closets can be reconfigured, and shelves can be added to leftover space.
There may not be more square footage available for additional storage, but you're bound to find space somewhere that can be better designed.
Reconfigure Existing Storage
The least expensive, easiest way to improve storage-and one that doesn't require additional floor space-is to reconfigure existing storage space. Decide if items could be better stored in a different manner and install what's missing. Add narrow shelves, hooks, and racks to a bathroom, bedroom closet, or to the wall alongside the stair that runs between kitchen and basement. Add a rack for shoes or spices behind a door. Add a couple of shallow rows of shelves over a toilet. Add a peg rail next to the door.
For inspiration and products, visit a home design store or shop online for storage accessories. Just be sure to measure everything and have a clear idea of what you need.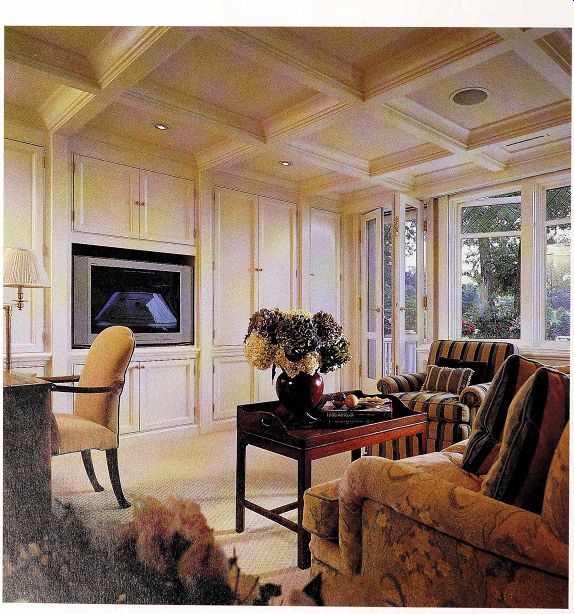 ----------- In the process of creating a home for the TV, these homeowners gave their living room a whole new face and abundant storage. Using the coffered ceiling as a design cue, the built-in cabinetry is incorporated into the architecture, becoming the heart of this living room.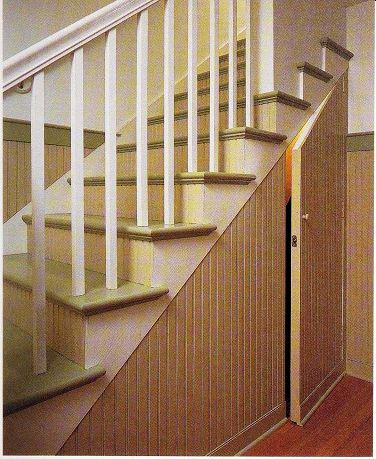 ---------------- The space under a staircase can easily be claimed for storage. This closet is for sports gear and seasonal decorations.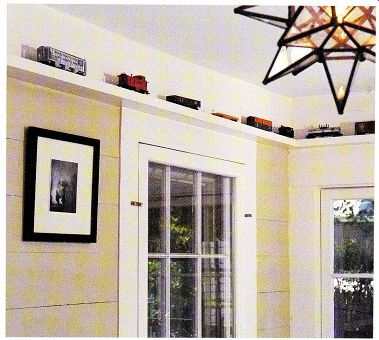 ------------- The extra-wide cap on this window-height wainscoting makes an ideal track for a collection of model trains.
Replace Existing Storage with New
Need a bigger fix? It may be time to completely replace your current storage. Old kitchen cabinets that offer nothing but fixed shelves and minimal drawer space may be begging for retirement. New cabinets can be custom-designed to fit your exact needs, and there are so many off-the-shelf options these days that you can practically custom design cabinetry by selecting a variety of interchangeable units. Bedroom closets are notorious storage disasters, and if yours is a single-rod, single-shelf standard, it's a prime candidate for an upgrade.
Diversify limiting storage with an assortment of storage devices (there's a limitless array on the market) , such as a stack of shelves, two shorter rods, and cubbies for shoes or accessories. And the living room could get a whole new lease on life if you toss the TV stand and invest in a real entertainment center with attached cabinetry and shelves for storing additional items, from videotapes to magazines to board games.
Claim Lost Space
If you have limited space, think like a designer of boats or space shuttles. Look around for free wall space or odd niches that can be claimed for storage; you'll be surprised how much dead space exists that can be perfect for squeezing in shelves, cubbies, or drawers. Look behind the knee walls in a top floor, over the door in the bathroom or bedroom, behind any door, or under a stair. The space under a bed can be claimed for large, rolling storage boxes, which can be a design feature built into the bed frame or cardboard concealed behind a dust ruffle.
------------------
Universal Accessibility
It may be advantageous to your present household or to a future situation to design universally accessible storage. The principles of universal design, which are specifically applied to design that works for those who are physically challenged or elderly, really makes good sense for everyone. Prime considerations in universal design include the ease of operation of hardware and the layout of furniture and built-in storage. For specifics about accessible design; for a quick take, consider the following:
• The path from the door to where items are stored should be as short as possible, especially in a kitchen, which requires frequent restocking.
• Storage that is placed between 20 in. and 40 in. above the floor makes it easy for a sitting person to reach it.
• Fixed shelves are harder to access than pullout shelves or drawers, so they should be shallow.
• Fixed open shelves are much easier to access than fixed shelves beh ind closet doors.
• Full-extension drawer glides al low access to the entire drawer.
• Levers and wide wire pulls are much easier to use than knobs, especially bal l-shaped knobs, which can be hard to grasp for everyone.
• A side-by-side refrigerator is easier to access than a fridge with the freezer at the top or bottom.
• Easy-to-switch or automatic lighting in closets-and even in cabinets makes retrieving stored items a lot easier.
----------------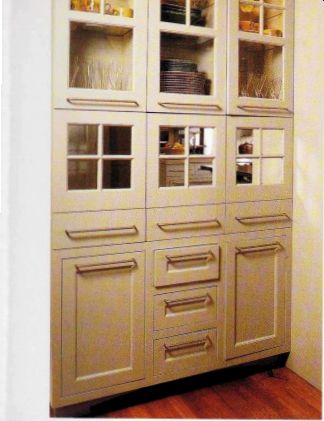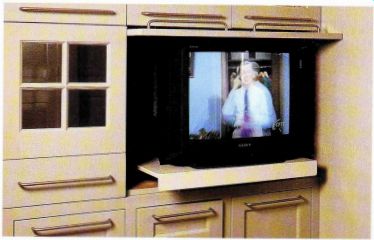 ------------- This built- in cabinetry is positioned at the edge of a small kitchen, where it provides space for dishware and for a small television that pulls out and can be swiveled for viewing from the kitchen island or an adjacent fireplace area. Mirrored doors conceal the television, along with a cabinet for videotapes, and reflect the rest of the kitchen, which adds depth to the space.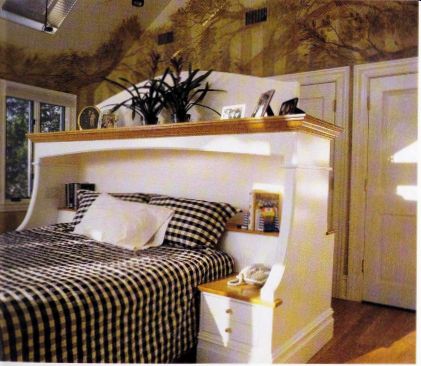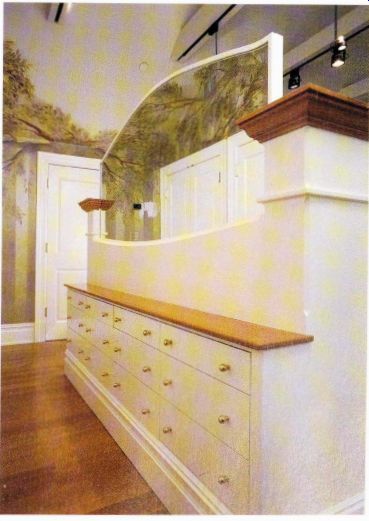 ----------- The standard bed-against-the-wall design has been transformed into a bed that carries its own wall. The built-in headboard has a dual purpose of screening the bed from the dressing room and surrounding the bed with storage. Integra nightstands, bookshelves, and built-in lighting make the bed comfortable place for quiet reading. The opposite side is both functional and elegant, with drawers for folded clothes and accessories, a shelf for temporary storage, and a huge mirror.
A dramatic example of this principle is a family that bought a house with a dumb-waiter, which was originally used for transporting food between the kitchen and lower-level dining area. Thinking it was too dangerous with three small children around, the homeowners disabled the cables and transformed the dumbwaiter box into a linen cupboard.
Add New Storage Areas
For the most serious storage puzzles, it may be worth the investment to add on a whole new storage area. An addition can be appended to the house or carved from existing space inside. Building a mudroom with an adjacent laundry and extra bathroom may be the perfect antidote to a family's entry way chaos, and a walk-in closet might be a better use of extra bedroom space than a huge bed and lots of furniture. A new pantry, media room, dressing room, or study may be the ticket to accommodate a growing family, hobby, or home-based business. Of course, the price tag will be higher than adding a shoe rack to the closet door, but the impact will be bigger, too.