---
---
Window shutters can be installed internally or externally and are available in a variety of traditional and modern styles. Most shutters are decorative, but some provide increased security and shutters. Internal shutters can be used instead of curtains -- they take up less room and don't become damp in steamy bathrooms privacy. Protect windows from weathering with external and kitchens. Shutters are easily cleaned, and allergy sufferers often find them preferable to curtains.
SECURITY SHUTTERS
Exterior roll-down security shutters are available. These are often motorized and can be easily operated from inside the home. The modern, unobtrusive designs also offer excellent heat and sound insulation. If you wish to fit security shutters, seek advice from a manufacturer. They will usually measure the window for you, then make and install them to your exact specifications.
CHOOSING SHUTTERS
Once you have decided whether you want internal or external shutters, choose what style you prefer. Solid or louver panels are most common -- some louver designs are adjustable so you can control the amount of light that you let in. Manufacturers may offer a range of other options such as tongue-and-groove, solid panels with designs cut out of them, or shutters that only cover the lower half of the window. Shutters can be made of traditional wood, as well as aluminum, vinyl, and a range of other materials. Wooden shutters require more regular maintenance than other materials such as aluminum and vinyl. Whatever material you choose, it's worth buying pre-finished shutters -- louvered shutters are very time-consuming to paint. Shutters are usually supplied with catches to hold them closed and tie-backs to secure them in an open position.
MEASURING
Shutters are usually custom-built for your windows or recesses. Before placing an order for shutters, take note of any mechanisms and installation procedures and make sure they are compatible with your window. If you are installing the shutters into a window recess, make sure there is enough room to fit them without blocking out light. You will need to measure carefully. Most companies will provide specific guidelines on how and where to take the crucial measurements. When you are measuring a window recess, make sure that you take at least three measurements for the width and height of the opening. Use the smallest of the three, because walls are rarely dead straight. This is a technique similar to that used for measuring for a new window frame.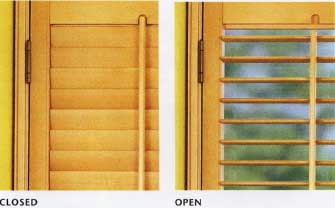 Adjustable louver shutters: These are an excellent choice if shutters are being used instead of curtains. You can vary the amount of light (and air) you let into the room by swiveling the louvers, and angle them to increase privacy.
MOUNTING OPTIONS
When you have decided on the style of your shutters, there are two main options for installing them. Frame-mounting is the most straightforward technique. The shutters are built into a two-, three-, or four-sided frame, which is then attached around or into the window recess. Alternatively, the shutter hinges can be attached directly to the existing window frame or jamb. This is known as hinge-mounting. With either option, you need to decide whether the shutters are going to be mounted within the window recess or around the opening. Internal shutters are often installed in the recess. External shutters are usually mounted so they are flush with, or just proud of the wall when they are closed.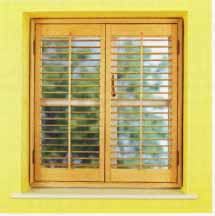 Interior shutters: You can maximize the feeling of space and light that shutters give an interior by installing them inside the window recess. The frame of the window will need an adequate depth to accommodate the shutters and their fastenings without cutting out light. Large shutters are available that fold like an accordion to rest neatly against the wall surface.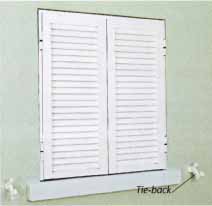 Exterior shutters: These can be mounted to open out flat against the wall on either side of the window. This requires free wall space, and room for them to swing into position. You can use offset hinges to allow the shutters to shut into the mouth of the window recess when closed (shown above). Alternatively, you can mount the shutters on the wall around the window.
TOOLS AND MATERIALS NEEDED
Installing interior shutters: Level, wooden off-cuts, molding strip, filler
Installing exterior shutters: Level, wooden off-cuts