---
---
A roof has to endure summer temperatures hot enough to grill a burger (really!) as well as resist bitter cold, shoulder tons of snow and shrug off hurricane-force winds. All that while still looking good and remaining darn near maintenance-free. There's not just one perfect roof that does all this, but several. Here are three common styles, each with its own pros and cons.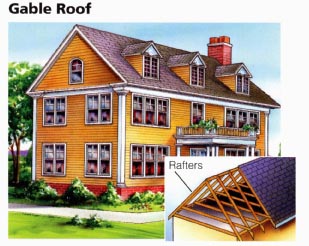 A gable roof is the easiest and least expensive to build. Most of the weight rests on the two outside walls that the roof overlaps. Dormers, intersecting roof lines and trim provide unique character. Steeper roofs contain more attic space, which can be converted into living space. Gable roofs are easy to vent, meaning they're relatively easy to keep cool in the summer and less prone to ice dams forming in the winter.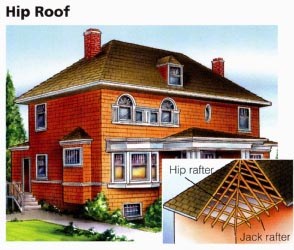 A hip roof looks like a gable roof with the ends clipped off at an angle, which makes the roof less prominent. A hip roof is more expensive and more complicated to build than a gable roof, and the extra angles reduce headroom and amount of usable space. Since rafters lap over all the outside walls, the weight is more evenly distributed.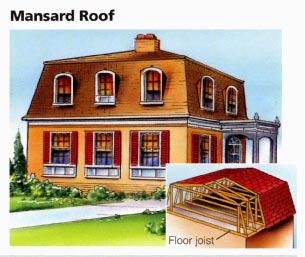 A mansard roof has two pitches, a shallow top and a steep side. The roof overlaps and bears on all the side walls. These roofs can provide a great deal of living space. The roof is very prominent and can make a house look boxy unless carefully designed.
Trusses vs. Rafters
There are two ways to create a roof structure: by installing trusses or by installing individual rafters.
Factory-built trusses , triangles of 2x4s and 2x6s reinforced with metal plates and a web of more 2x4s and 2x6s, can be installed easily, even by novices. Computerized systems can make all the calculations to allow even complex roof designs to be manufactured and installed using trusses.
---
---
Energy-efficient trusses are also available. On the downside, all of those interior 2x4s and 2x6s make the attic space largely unusable. Special trusses that carve out living and storage space can be ordered, but they're expensive. Never cut into, or modify, a truss.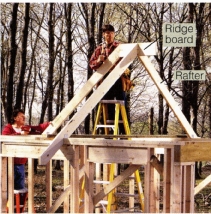 Hand-framed roofs consist of rafters that are individually cut and installed. Since the rafters are usually made from dimensional lumber, such as 2x10s that can span greater distances, there are fewer internal supports to interfere with the space below. Deeper rafters also provide a handy space for insulation. The result is a roof with more usable space, but also one that's harder and more expensive to build.