Components of a Gas Burner and How it Works
To burn gas efficiently, the air and gas mixture should be adjusted until flame burns as shown in bottom picture.
Wrong. Not enough primary air; yellow tip, lazy inner flame.
Wrong. Too much primary air; sharp, blue, hard inner flame.
Right. Soft blue-green inner flame.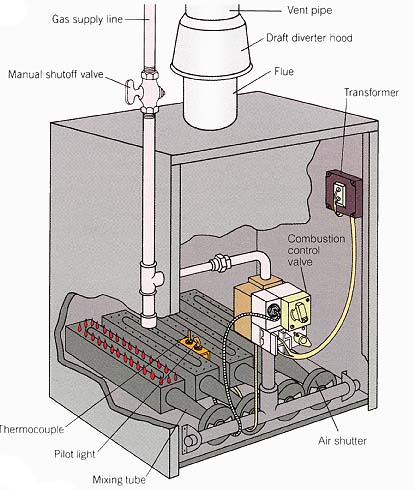 How It Works. When the thermostat calls for heat, it signals the burner control to open a valve, sending gas into the ports in the burners. There the gas mixes with air and is ignited by a pilot light or electronic ignition. Burning gas heats the heat exchanger, the chamber containing air or water. Combustion gases escape through a vent pipe. :
Caution: Make sure the burner has an adequate air supply; an outside air source is best. Don't re-light the pilot light or make any repairs if you smell gas. Close the main valve and call the gas company from a neighbor's house. Don't operate any electrical switches.
Relighting a pilot: For an older burner, turn the manual gas valve and pilot gas valve to "off." After airing the burner 5 minutes, turn the pilot gas valve to "on." Press in the red button on the switch for one minute while lighting the pilot. If pilot doesn't light, wait five minutes, then repeat steps. If it still doesn't light, replace thermocouple (see below) or call the gas company.
Cleaning the pilot orifice: If the pilot doesn't light, its orifice or air-shutter orifice may be clogged. Turn off the main shutoff valve and electrical switch. Remove the access panel by unscrewing its bracket. Carefully clean orifice with a toothpick. Remove debris from the edges with a cotton swab or paint brush.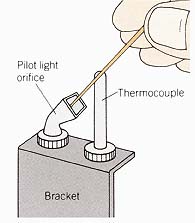 s
Replacing a Thermocouple
Turn off gas knob (or manual and pilot gas valves) and power to burner. Air 5 to 10 minutes. Unscrew lead from combination control valve; wipe threaded area with clean rag. Unscrew nut holding thermocouple to bracket. Fasten new thermocouple to bracket, lead to control valve.