Home Climate: Bath and Kitchen Fans
Replacing a Bathroom Fan
If your bathroom fan is noisy, underpowered or broken, you can install a new one yourself. If access isn't a problem, the job can be completed in less than a day and requires only basic carpentry and electrical skills. While you're at it, upgrade to a new-generation fan -- they're more powerful, more efficient and virtually silent. This job will reward you every morning with a quieter bathroom and a clear mirror.

You'll need basic hand tools, a power drill and a jigsaw. The basic steps include creating a larger opening, installing or retrofitting ductwork and installing the roof or wall vent.




1. Turn off power at the main panel. In the attic, unscrew the fan housing, detach old cable and disconnect wiring. Remove tape, clamps or screws securing the ductwork.

2. Hold the new fan housing in place. Check to make certain there are no obstacles. Cut or enlarge the opening with a drywall saw. Screw the housing to a joist and caulk seams.

3. Screw an elbow to the fan's exhaust port using self-tapping screws. Attach flexible ductwork to the elbow. Use insulated ductwork to reduce noise and condensation.
continued...
Recommended Products:
Nutone Value Test Exhaust Fans 90 CFM Fan - 4'' Duct - 671R

Ideal for bath utility and recreation rooms Easy installation in walls or ceiling Use in tub/shower enclosure with GFI branch circuit wiring Ventilate larger baths with 90 or 110 CFM air movement Mounts in ceiling

---
Nutone Quiet Test Exhaust Fan

Nutone QuieTTest Exhaust Fan for bathrooms up to 135 sq. feet. Quiet ventilation. Easy installation, includes pre-wired outlet boxes with plug-in receptacle. Free shipping

---
---

---
Learn how to weatherproof your home at homedepot.com
• BEST PRICES on Energy-saving Wood Stoves




4. Remove the cover plate at the electrical splice box and pull out the wires. Twist the wires together and secure them with connectors according to the manufacturer's directions.

5. Enlarge the existing vent hole f required and pull the duct's end about 3/4 in. (2 cm) above the roof surface. Secure it to roof sheathing with sheet-metal screws and caulk around the gap.

6. Slide the new vent cap under shingles to check the fit. Remove, apply roofing cement to shingles where nailing flanges will rest and nail in place.

---
---
Range Vents

Vented kitchen-range hoods exhaust smoke. grease, heat, odors. Combustion products and moisture generated by cooking. By installing a combination range hood/microwave oven. You can unclutter your counters and clear the air.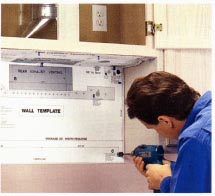 Drill mounting holes by following the directions and template supplied with the new vent. Electrical and duct connections are similar to bathroom fans.

Safety Alert! Beware of Backdrafts
Studies show that the combination of a well-sealed, energy-efficient house, a high-volume kitchen exhaust fan and certain combustion appliances can be dangerous. Powerful exhaust fans can move so much air that they can pull dangerous furnace and water heater combustion gases down the chimney and into your living space. Two possible solutions are to provide a dedicated combustion air supply to the furnace room or install sealed combustion equipment that brings in its own combustion air.
Updated: Friday, February 21, 2020 18:19 PST